Description
Join Chattanooga Moms Blog for a fun Sunday afternoon. We are very excited to offer our FIRST EVER family event!
When: Sunday, May 7th 3-5:30 PM
Where: Baylor School
Families will be invited to join us at Baylor School on the quad where we will have fun carnival games provided by CMB and many table sponsors. Families will enjoy snacks, popcorn, carnival games (with fun small prizes!), sack races, fun clown noses, find the duckie, games of corn hole from Chattanooga Allergy Clinic, The Bright School, activities from the Mathasium of Chattanooga, a treasure dig and photo op with Bella Ballerina, Chattanooga Fire Fighters Association (might have a visit from a fire truck!), Southern Energy, Water & Air will have a recycled bottle water craft, snacks from Whole Foods, Sawrie Orthodontics, Northshore Pediatric Dentistry, Webb Family Orthodontics, World Sales Chattanooga and the fun and creative Spinning Art from the creative duo Corban and Amy Brauer!

Tickets will be limited—and one $10 ticket will cover the whole family up to 4 children with adults. Please only include your immediate family in your purchase of tickets or this will cause our numbers and supplies to be off for the event. If you have additional questions or need to purchase a 2nd ticket, info@chattanoogamomsblog.com
(One ticket per family covers up to 4 kids. If you have more children, you will need to purchase a 2nd ticket. If you are on your mobile, you might to be on desktop to view tickets to purchase!)
We can't wait to see you and for all the fun!
Check Out Our Awesome Sponsors!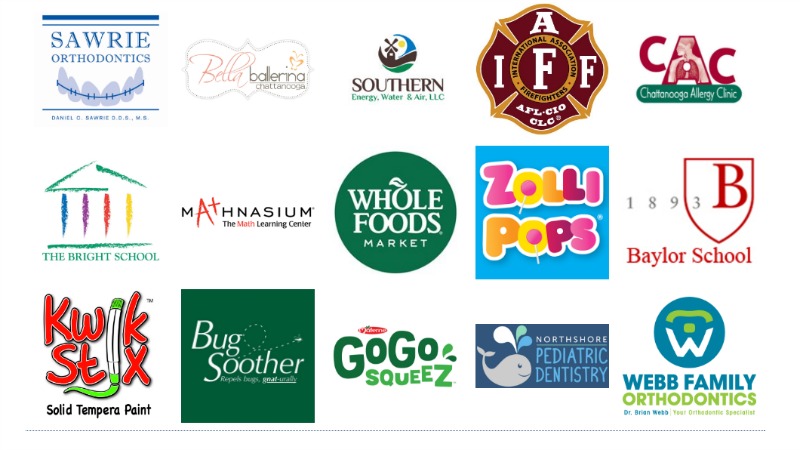 What activities and snacks can you expect?
Snacks from:
GoGo Squeez, Zollipops, and Whole Foods, and many sponsors will have snacks setup at their table.
Swag from:
Kwik Stix and Bug Soother