Description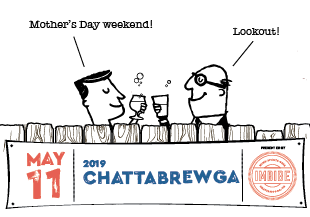 We are thrilled to return for Chattabrewga 2019 presented by Imbibe Chattanooga. This annual rare beer revival will gather 40+ hand-selected local, regional, and national craft breweries and feature over one-hundred unique pours! Guest will enjoy, food trucks, live entertainment — plus an expanded offering of Belgian and German beers at the Imbibe Experience!
FREQUENTLY ASKED QUESTIONS
What are the hours of the festival and when is it?
May 11, 2019-Gates open at 12 pm and we will begin scanning tickets at 11 am. Event ends at 5 pm.
What does the festival Cost?
$60, which includes entry to the festival, 5-ounce tasting glass, and samples of all beers (over 130).
Will there be designated driver tickets?
Yes, they will be $20 and you still must be 21+. You will not receive a tasting glass. However, snacks and soda will be provided. You can find these snacks near the entrance/exit.
Do you have to be over the age of 21 to attend?
Yes, no exceptions all ID`s will be checked at the gate. Please don't bother to buy a ticket if you are not 21.
Are children allowed at the event?
Sorry, no children. Call the babysitter in advance!
Are pets allowed at the event?
As much as we love our dogs, cats, goats, and fish, please leave them at home.
What happens if it rains or snows?
The show must go on. Rain, snow or shine, no refunds.
Will there be food at the event?
Yes, food will be sold by several Chattanooga Food trucks and local restaurants.
Will there be bathrooms at the event?
Yes, we will have regular bathrooms and additional port-o-lets.