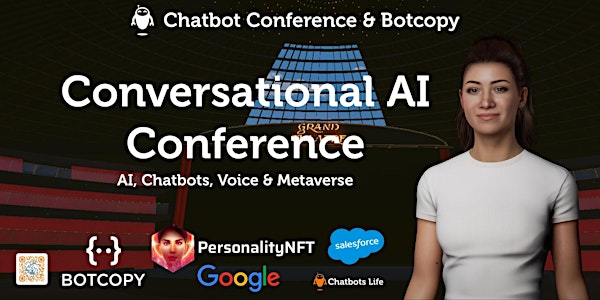 Chatbot & Conversational AI Conference in the Metaverse
Join us in the Metaverse and Network with the top industry experts from Companies like Google, Salesforce, Botcopy, CDI & More.
About this event
Welcome to the Metaverse!
We will be hosting this conference on ZOOM Events and in the Metaverse on Decentraland!
Over the past few years, Conversational AI has grown tremendously. Gone are the days when people were trying to discover and validate use cases. Now we know what works and how to execute it. Now is the time to look to the future.
In this Conference, we will explore both current and future use cases of Conversational AI. If your Enterprises is new Chatbots, you'll quickly discover what to do and how to do it. Then in our Certified Full Day Workshops, you can design and build your first bot!
Lastly, we will explore how Conversational AI, Metaverse, and NFT are technologies that are all beginning to merge in our dedicated track. To really demonstrate the power of this, we have created a Conversational AI Bot can introduce you to other attendees in the Metaverse based on your Personality NFT! Now, these will be high-quality, highly valuable intros, based on your goals, values, and personality traits. And, it solves one of the main challenges for online events, meeting the right people.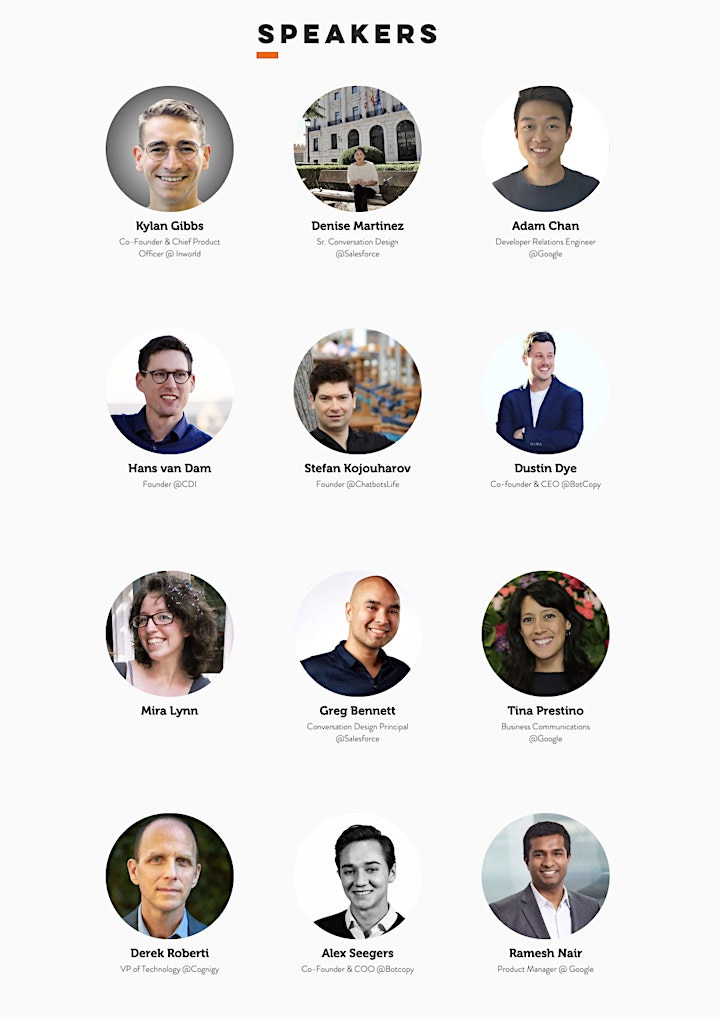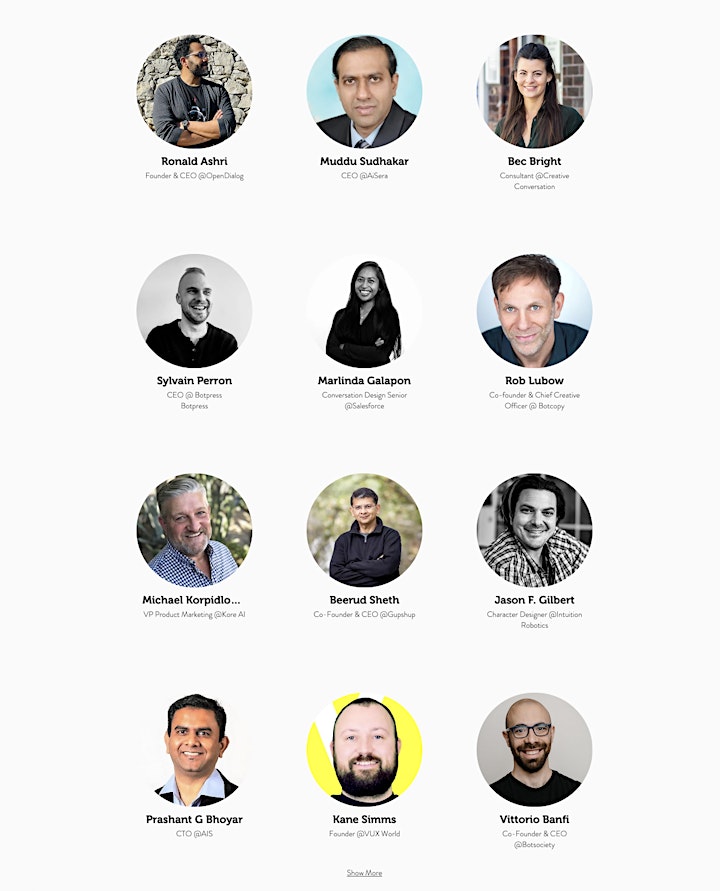 3 Day Agenda
Day 1: November 15, 2022 | Chatbot Conference
Day 1 is the Chatbot Conference. On day one, you will discover how how Enterprises are using Chatbots & Digital Agents. We start with a 'Big Picture' view of the space and then zoom into areas of value, such as exploring the top uses cases and how to execute them.
After Day 1, you will know what to build, how to organize a team and what skills are needed, what tools you'll need to build it and finally, you'll be able to network with many of the top industry experts!
Day 2: November 16, 2022 | Certified Conversational UX Workshop
On Day 2, you will apply your knowledge by designing your Conversational AI agent in our full day workshop. At the end of the workshop, you will get Certified in Conversational UX and have a demo version of your bot that is one step away from going live!
Day 3 : November 17, 2022 | Certified NLU Workshop
On Day 3, you will add NLU to your bot and bring it to life. Your bot will be able to answer questions, handle errors, and fulfill orders.
By the end of our 3 Day Conference, you'll have an MVP/POC you can take back to your team or implement in your company.
See what our Past Attendees Had to say about the Chatbot Conference
Discover how Bots are Coming to the Metaverse!
As the Metaverse is becoming more and more realized, Enterprises are looking at this new frontier and asking themselves what are some of the ways they can integrate the two.
Companies are starting to build Digital Characters designed to tell storeis and foster a relationship. These character and slowly making their way to the Metaverse in places like Decentraland.
During the Confernece, we will showcase one such example. You'll be able to interact with a Digital Character in Decentraland that was built by Charisma.
Day 1 Topics:
Trends: Discover what is New and how the Industry is Evolving
Industry Track: Exploring how Enterprises are using Chatbots and Conversational AI within their organizations and with their customers to lower costs and increase ROI.
Metaverse: Discover how Hollywood is starting to use Virtual Characters powered by NLP/NLU to foster relationships and tell stories in the Metaverse!
Big Picture: Get a 30,000 foot view of the Conversational AI space and identify what is important.
NLP & NLU: ​Latest on NLP & AI for Bots
Chatbots Design & UX: Latest design conventions and a look at what's working.
Voice & Virtual Assistants: Latest on Voice from Google Home, Alexa, & Siri.
Chatbots Design & UX: Latest design conventions and a look at what's working.
Deep Dives into Vertical Solutions: Ecommerce, Marketing, Customer Service, Backend Bots, and domain specific bots.
Execution and Team Organization: How should you start your project? Discover how to set up and take your project from ZERO to Launch.
And more....
November 15: Chatbot Conference
Day 1 Agenda: Morning Sessions
* This was our most recent agenda and a clear idea of what to expect. We are finalizing the speakers & agenda.
Day 1 Agenda: Afternoon Sessions
The afternoon will focus on Industry Sessions, Live Podcast, and Produce Execution Sessions.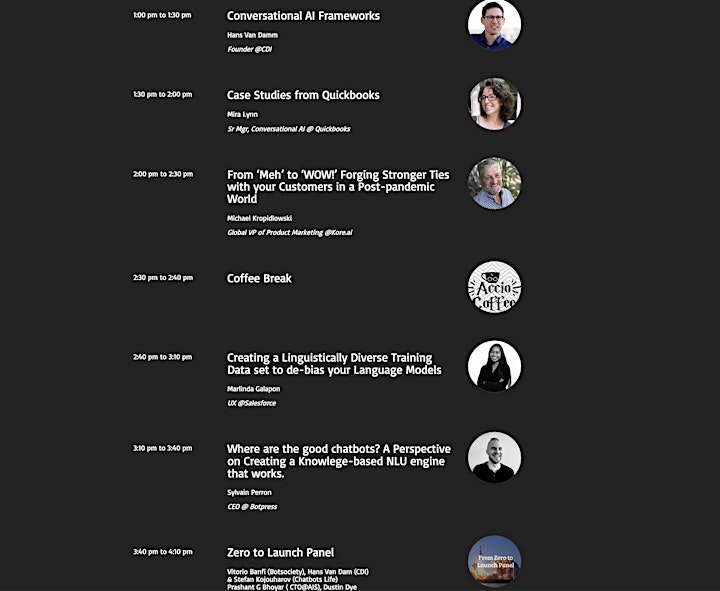 Day 2 Agenda:
November 16: Certified Conversational UX Workshop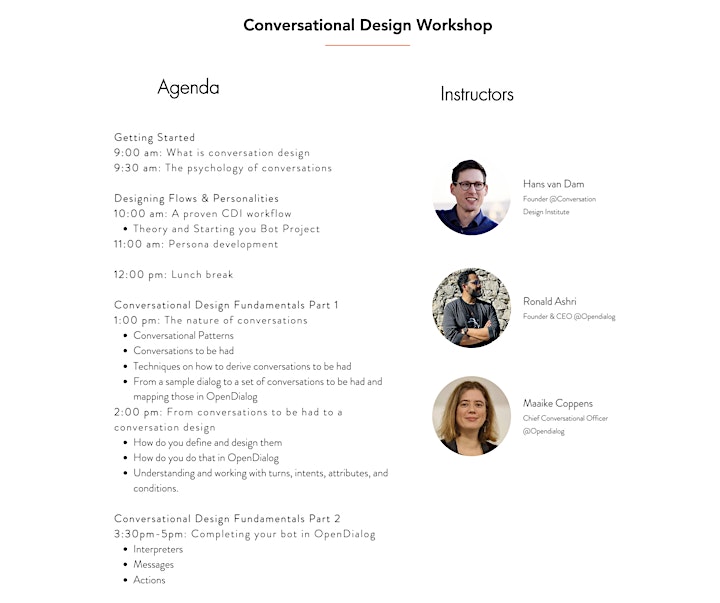 Day 3 Agenda:
November 17: Certified AI Workshop