Description
Chatbot, Voice & AI Conference 2019


If you could ask Google, Oracle & Walmart anything about AI, Bots & Voice what would you ask?
Join us and connect with the top speakers, entreprenuers and developers in the chatbot and ai space. We features speakers from many of the hottest companies like Chatfuel, Dashbot, Recime, Seed, Assist and many more. This is our 3rd annual Chatbot Conference in San Francisco.
2 Day Event
The Goal of Day 1 is to give you an overall understanding of the Bot Ecosystem, to discover the best business application that are producing an ROI, and to do deep dives in the most essential areas.
We aim to answer the most pressing questions such as 'what use cases have the biggest ROI', 'what is possible given the current state of AI & NLP ', 'what is the best way for Enterprises to get started' and many more.
The deep dives will focus in the most promising areas of the Chatbot/AI space such as Voice, Customer Service, B2E, Marketing, Backend Bots and RPAs. Additionally, we will do deep dives in AI/NLP (Natural Language Processing) and UX Design.
We end day one with our Zero to Launch Panel which will try to bring all of the insights of the day into a coherent strategy on best practices of launching your bot.
By the end of day one, you will have a greater overall understanding of where we are in the tech cycle , what use cases are most effective, how to leverage what is currently working and bring it into the world and insight of what is next!
On Day 2, we will take all of our insights and discoveries from day one and you will build a customer journey chatbot.
By the end of the workshop, you will have a bot that can help your company generate more leads and even answer a few of the most commonly asked questions.
Deep Dives:
Voice & Virtual Assistants: Latest on Voice from Google Home, Alexa, & Siri.
Customer Service: Exploring how Enterprises are using bots in
Marketing: Latest on how Enterprises are generating leads and sales using Bots.
B2E, Backend & RPA's: This is the biggest use cases no one is talking about! Backend bots are bots that autoamted tasks between emplyees and enterprises such as HR, password reset, employee onboarding, document managment, proof reading, and much more.
Artificial Intelligence & NLP: ​Latest on NLP & AI for Bots
Chatbots Design & UX: Latest design conventions and a look at what's working.


Networking
One of the biggest benefits to our conference is the people you will meet.
Our events are regularly attended by Fortune 500 companies like Google, Facebook, Walmart, Wells Fargo, Salesforce, Amazon, Target, Bank of America, Verizon, Deloit, and many more.
No matter what type of project you're working on, or what questions you have, chances are that our speakers or someone in our audience can assist you on your journey.
Let our team know if we can help make any intros!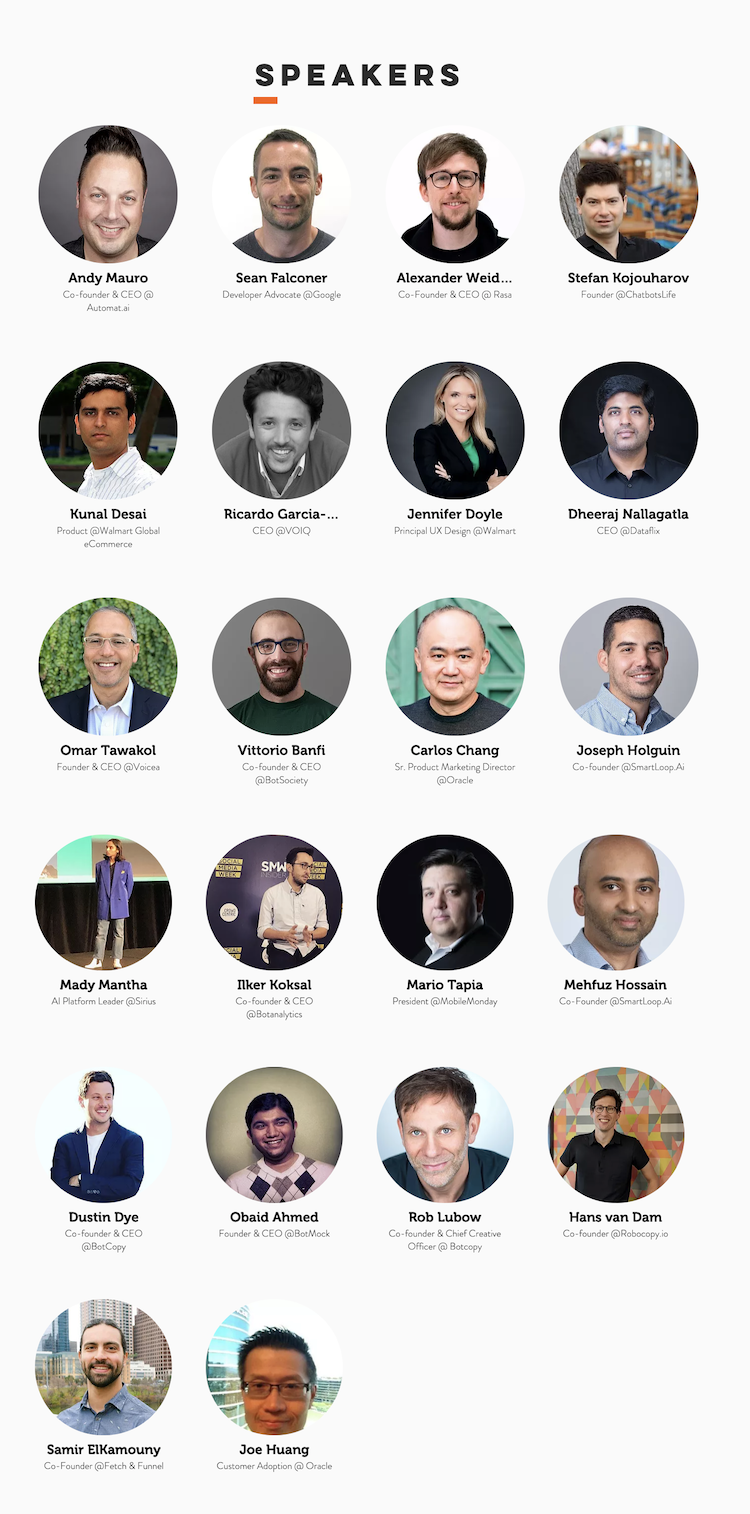 Day 1: Conference Agenda

Day 2: Workshop Agenda