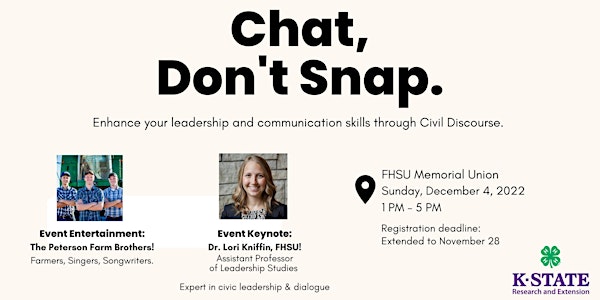 Chat, Don't Snap: Leadership & Communication Skills through Civil Discourse
Come learn about civil discourse and enjoy a performance from the Peterson Farm Brothers! Be one of the1st 100 to register & get a t-shirt!
When and where
Location
FHSU Memorial Union 600 Park Street Hays, ME 67601
About this event
Teen leaders from Ellis County 4-H Council, are hosting a workshop for Northwest Kansas teen leaders on Civil Discourse on Sunday, December 4 at the FHSU Memorial Union. The goal of this event is to help teens learn how to have productive conversations about difficult topics that will lead to meaningful change.
The program will include an introduction to civil discourse from Dr. Lori Kniffin, Assistant Professor of Leadership Studies, Fort Hays State University; breakout sessions to practice these skills, and a special performance by the Peterson Farm Brothers.
Schedule:
12:30 Check-In
1:00 PM Welcome & Keynote from Dr. Lori Kniffin
1:45 Breakout Session 1
2:40 Breakout Session 2
3:30 Refreshments, Raffles & Closing
4:00 Performance from Peterson Farm Brothers
This event is free to attend thanks to our generous donors. Event materials and refreshments will be provided. Plus, the first 100 to register will receive a free t-shirt!
During registration, you will be asked to select your preference of topics for the breakout sessions. Topics include Guns in America, The Future of Our Environment, and the Pros and Cons of Social Media.
Breakout Session 1 will also include a discussion to introduce parents, guardians, advisors, and other adults attending about mentoring teens in civil discourse.
Registration deadline: November 28, 2022
What is Civil Discourse?
American University's Civil Discourse Project describes it this way...
One of the most important educational, political, and social issues of today is how best to have a civil conversation in a democratic society. Our past, present, and future depend on this essential process: citizens gather, listen to each other, debate, make up their minds, and determine a course of action.
Join us and together we'll take the first steps in forging a new way forward here in Kansas!
Questions? Contact us at elliscounty4hcivildiscourse@gmail.com