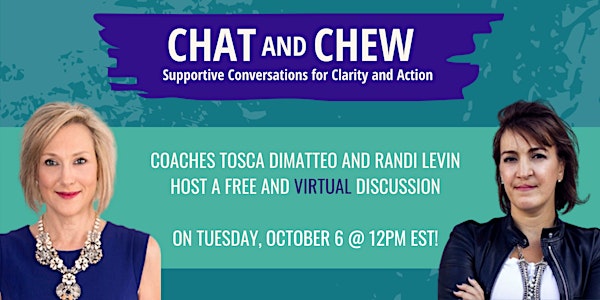 Chat + Chew with Coaches Tosca DiMatteo and Randi Levin
Join coaches Tosca DiMatteo and Randi Levin for a free, virtual discussion. Expect interaction, support and to be inspired!
About this event
Join expert coaches, Tosca DiMatteo and Randi Levin, as they leverage the power of the group to help you discover what will help you move forward in your goals and realize you are not alone. This is not a talk at you event, this is an opportunity to have a conversation and access to coaches who are experts in life and career transitions.
Be a part of a community that will help you reflect your truth and support you to find even more clarity on whatever you are facing in the moment.
Leave the conversation inspired, energized and ready to take the next action.
Zoom link provided day-of event!
About Tosca DiMatteo
Tosca DiMatteo is a certified coach who supports working professionals and businesses to experience transformational change in their lives and organizations. Her mission is to detoxify workplace environments through advocacy, empowerment, shifting mindsets and approaching difficult situations strategically – from a connected heart and mind. As a former marketing executive, she brings strategic and branding principles to life while ensuring plans will work where the rubber meets the road in order to help her clients own their truth and dream big.
Her qualifications and certifications include:
20+ years in the Marketing field (B2C and B2B) in blue-chip companies including Unilever, Kimberly Clark, Pernod Ricard and Univision.
ICF Certified Coach
Michigan State University, MBA in Marketing
Rochester Institute of Technology, B.S. Business Administration
Smith College Executive Education for Women Leadership Program
Guest speaker at top universities including NYU and University at Buffalo
About Randi Levin
Randi Levin CPC, founder & CEO, Randi Levin Coaching – is a nationally recognized virtual transitional life strategist, Fortune 500 keynote, author, and reinvention expert. Female founders, entrepreneurs, and women in transition hire Randi to support them in managing and leading change and in recalibrating and redefining legacy and success in a moment-centric, action-forward way. She is a relatable resource and an action-oriented coach, pivot partner, speaker, and thought-Leader, building upon her 15+ years in Corporate America, her tenure as a stay-at-home mom, and her successful reinvent as an entrepreneur and sought after strategist. Randi Levin is featured on national stages and in top media outlets and podcasts. You may have seen her interviewed or quoted in Thrive Global, HuffPost, Reader's Digest, Business Insider, American Express OPEN Forum, Working Mother Magazine, Better After 50, or Covey Club. Her workshops have been featured in The Wall Street Journal. Randi is the creator of The Personal Success Accelerator System and you can access her virtually in The Recalibration Network.