Description
Join us at Cowell Theater on Thursday, August 23 from 6:00 - 9:00 PM for the Bay Area Premiere screening of Chasing the Thunder. Followed by a Q&A with Captain Paul Watson, Founder of Sea Shepherd Conservation Society and Adam Meyerson, Chief Officer on the Bob Barker for Ice Fish.
Chasing the Thunder is a high-seas documentary about the Sea Shepherd's epic 110-day, 10,000-mile chase of the "Thunder," considered the world's most notorious poaching vessel. Across two seas and three oceans, the marine activists hunted the fugitive fishing ship through massive ice floes, storm-tossed seas, a near collision and violent clashes until the Thunder dramatically sank, burying the evidence of its crimes on the bottom of the South Atlantic. Total running time: 96 minutes. Watch the trailer.
Proceeds from this screening go to the IOFF for the promotion of international ocean conservation and to support our mission of saving the ocean one film at a time.
Event Schedule
6:00 - 7:00 - VIP Reception
6:45 - Doors open
7:15 - Film Starts
8:15 - Post-screening Q&A
TICKETS
Advance Ticket Sales:
General Admission - $20
VIP Reception - $50
Cowell Theater Lobby - 6:00 - 7:00 PM featuring wine, beer and light appetizers

Includes VIP seating in the theater

Advance purchase only(sales end midnight August 22nd)
Ticket Sales at the Door:
General Admission Only - $25
Please note: Food and beverages except for bottled water are not allowed in the theater.
CREDITS:
BRICK CITY TV / VULCAN PRODUCTIONS / DISCOVERY
Executive Produced by:
Paul G. Allen
Carole Tomko
Rocky Collins
Mark Benjamin
Marc Levin
Produced by:
Katie Carpenter
Sam Sielen
Directed by:
Mark Benjamin
Marc Levin
COWELL THEATER - VENUE INFORMATION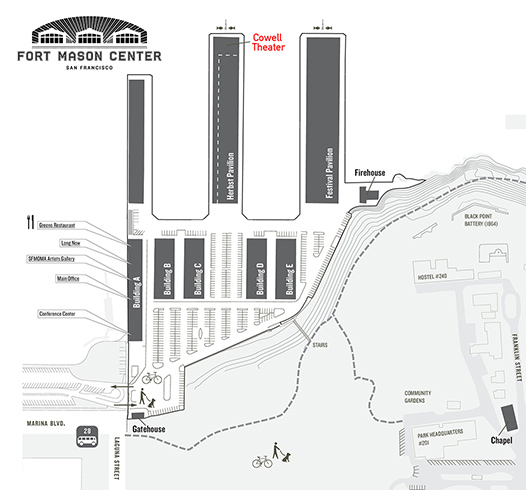 Location
Cowell Theater is located at the end of Pier 2 in the Fort Mason Center, located on Marina Boulevard at Buchanan Street, along the northern waterfront between Aquatic Park and Marina Green. The entrance to Cowell Theater is along the west side of the pier.
Parking
All funds generated from parking revenue are allocated for the preservation and restoration of this National Historic Landmark. The Fort Mason Center parking lot will be available for guests attending the film screening. Vehicles can enter the lot at any time, however overnight parking is not permitted and the parking meters are enforced 24 hours a day.
Parking fees are in effect from 7:00 am to midnight daily.
Weekday Rates
0-1 hour = $3.00

1-2 hours = $6.00

2-3 hours = $9.00

3-2 hours = $12.00

4+ hours = $15.00
Public Transportation
Cowell Theater is served by the MUNI bus line 28.