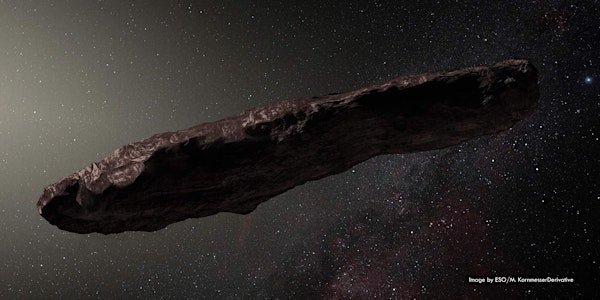 Chasing Oumuamua
A Long Now Boston Conversation with Dr Martin Elvis of Center for Astrophysics | Harvard & Smithsonian Institution
About this event
In October 2017, a mysterious object from interstellar space was discovered as it made a close pass through our solar system. Named Oumuamua and later designated as "1I/2017 U1", this object captured global attention. Due to its small size, high speed, and unusual physical features, Oumuamua resisted easy classification. In the past five years, speculations on the origins and nature of Oumuamua have become controversial, with some experts, including Professor Abraham "Avi" Loeb of Harvard, arguing that it could be a manufactured artifact rather than an unusual but natural object sourced in some ancient star system potentially billions of years in the past. Avi raised this possibility in his Long Now Boston Talk "Life Among the Stars " in December 2019.
In January of this year a serious proposal called Project Lyra was floated to launch an exploratory mission from Earth, intended to intercept Oumuamua in 26 years. While the technical challenges are significant, the initial findings are that this would be feasible, and the scientific opportunity would be attractive.
Dr Martin Elvis, Senior Astrophysicist at the Harvard & Smithsonian Center for Astrophysics, has been studying extraterrestrial objects for his entire career, and last June published the book Asteroids: How Love, Fear, and Greed Will Determine Our Future in Space, which expanded on his Long Now Boston talk in 2018: Asteroid Futures: Decade, Century, Millennium. In his extensive research for his book, Martin was in a uniquely privileged position to learn about the controversies relating to Oumuamua and the early speculations on Project Lyra. He will share his observations with Long Now Boston on May 2.
Join the conversation and be part of the solution.
The conversation will be held virtually using the Zoom platform. Login information and password will be provided to registrants prior to the event.
This event is FREE thanks to a generous sponsor donor.
Login begins at 7:00 p.m.; the conversation begins at 7:30 p.m.
Audience participation is encouraged.
Our event sponsor this month salutes Mike and Pete of www.2269.co for their leadership in imagining a thriving future worthy of a global celebration of imagination, exploration and progress --- on June 6, 02269.
Cambridge Innovation Center is an in-kind sponsor of this Long Now Boston conversation. We are very grateful for their support.