Description
Please join us for a night of inspiration and motivation as Grandesco Solutions presents: Chasing Excellence! Powered by WE Energies and The Boldt Company.
Based on a true story, Queen of Katwe, is an impactful movie that narrarates on the symmetry between the game of chess and the journey of life, symbolizing the significance of strategy and wit. Depicted is a family's struggle in the slums of Katwe, Kampala, the capitol of Uganda, through the perspective of adolescent Phiona Mutesi. Mutesi's life changes as she meets Robert Katende, a missionary who teaches children how to play chess. As young Phiona develops interest and ultimately exudes proficiency in the game, she eventually goes on to win many championships. During her succession in local tournaments, she also learns how to read and write, allowing her to also pursue her scholastic endeavors and the ability to live life outside the limits of Uganda. Phiona is able bring her family and herself out of poverty after the journey of dealing with an overprotective mother, a deceased father, identity and stress issues. This is a true story of, like the game of chess, when "the small one becomes the big one."
Link to trailer - https://youtu.be/z4l3-_yub5A
Agenda to follow:
5:00P - Reception, including cash bar and hors d'oeuvres
6:00P - Queen of Katwe screening
9:00P - Q&A with Dream Chasing alumni
Tickets:
Adult tickets: $25

Youth tickets: $20
Teens enter free when accompanied by an adult with a paid ticket. Limit up to three (3).

Youth ticket sponsorship compliments of the Milwaukee Bucks and Solomon Community Temple Methodist Church.
Please Note:
Children 12 and under are not permitted.
All teens ages 13-17 MUST be accompanied by an adult with a paid ticket. Youth without an accompanying adult will not be permitted entrance.
Tickets must be purchased in advance and are not purchasable at time of event.
Ticket purchases are not eligible for refunds. FINAL SALE only.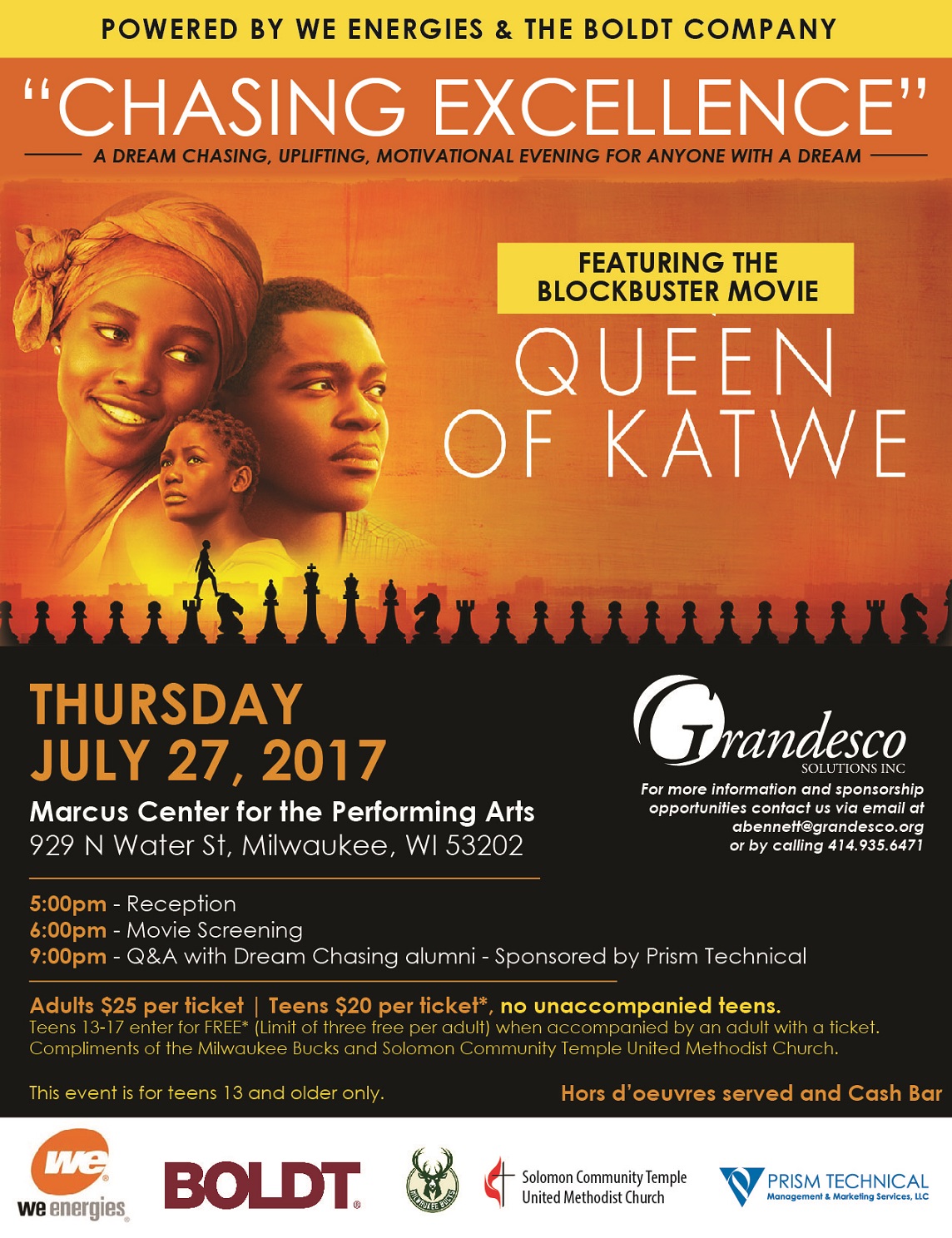 All proceeds will be to support the mission of the Dream Chasing program managed under Grandesco Solutions Inc., a 501(c)3 nonprofit organization.