Chase "la fée verte" , An Absinthe Tasting Event @ The Roaring Twenties Co...
Description
The myth, the mystery, the taboo of Absinthe is a well documented and often pop culture referenced phenomenon. The traditionally green spirit known for inciting the creativity of the bohemian revolution was illegal for decades and completely unavailable in the states. Some say the powerful drink could make you hallucinate, others found it to be a muse for all manner of creativity. Well now you get to see for yourself.
Join us for a night the will take us back into time. We have a half a dozen varities of Absinthe on hand and we want to share them with you. Mostly green we even have a few specialty small batch incarnations including a delicious red variety. Dare you chase the fairy and see what inspiriation awaits you? We will have multiple artists on hand the evening of the event to share their creative spirit plus a presenter to inform you about Absinthe and the different types we will have to offer that evening.
We have both a variety of traditional prohibition Absinthe Cocktails on our menu to choose from in addition to true vintage drippers for the original Absinthe experience. ALL TICKETS include admission to the event and a discount on absinthe cocktails and fountains. We also have multiple ticket types that include Absinthe drinks or fountains, even full bottles! This is a very limited attendance event and we will sell out! Stay after the tasting for our dueling pianos band or take your party upstairs to our nightclub and see what the lasers and flashing lights look like after imbibing the worlds most infamous spirit.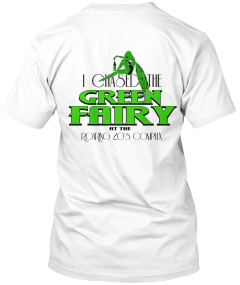 Chase The Green Fairy
$19.99
We partnered with Teespring to create some awesome merchandise for this event. Show your support and look good wearing it. Check it out!