Charting Your Own High-Impact Career Path: Using your head to follow your h...
Event Information
Location
Altschul Auditorium, International Affairs Building
420 W. 118th Street
New York, NY 10027
Description
Have you ever felt caught between your head and your heart,
not sure which to listen to when it comes to career decisions?
Join us at the career event that was praised by students last year as "refreshing and inspiring" and "the most beneficial and eye-opening [event] I've seen" during their time at Columbia.
Event Schedule
9:00-10:30 AM HIGH-IMPACT CAREERS WORKSHOP for BEGINNERS
(suitable for newcomers & for those who attended last year but want a refresher)
10:45 AM-12:00 PM ADVANCED HIGH-IMPACT CAREERS WORKSHOP
(suitable for people who attended last year's workshop)
1:00-2:30 PM REPEAT of morning Beginners workshop
2:45-4:00 PM REPEAT of morning Advanced workshop
Dr. Mrim Boutla of More Than Money Careers will return to Columbia to deliver two workshops that will provide a framework, exercises, and tips to help you identify and land the world-changing career path that best aligns with your unique values, skills, and priorities. You'll leave with a customized roadmap to get started and a plan to effectively use your skill set and time at Columbia to advance your ideal career path.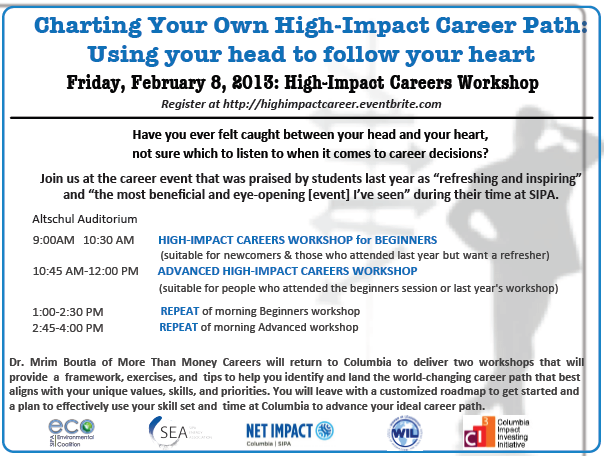 Date and time
Location
Altschul Auditorium, International Affairs Building
420 W. 118th Street
New York, NY 10027