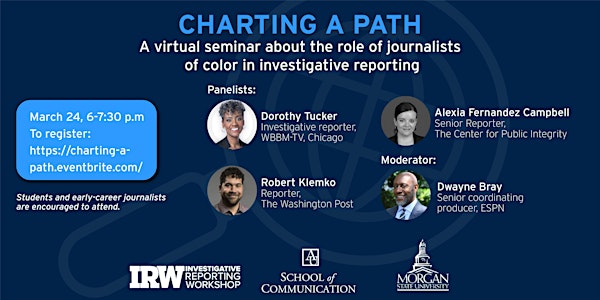 Charting a Path: How to Bring Diverse Approaches to Investigative Projects
Charting a Path: How to Bring Diverse Approaches to Investigative Projects
About this event
The Investigative Reporting Workshop, American University's Journalism Division and Morgan State University's School of Global Journalism & Communication will co-host, "Charting a Path: How to Bring Diverse Approaches to Investigative Projects," a virtual seminar about the role of journalists of color in investigative reporting from 6:00 p.m. to 7:30 p.m. via zoom.
The program is free but registration is requested. College students and early-career journalists are encouraged to attend.
Dwayne Bray, of ESPN will moderate the opening panel. Bray has been a journalist-at-large for ESPN's The Undefeated, which focuses on the intersections of sports, race and culture. In his current role, Bray produces in-depth, longform feature and investigative stories for multiple platforms. He'll be interviewing Dorothy Tucker, investigative reporter, WBBM-TV, Chicago, Robert Klemko, The Washington Post, Alexia Fernandez Campbell, The Center for Public Integrity.
AU School of Communication's incoming dean, Sam Fulwood III will open the program.
Students and early-career journalists are especially encouraged to attend as the panel will be followed by breakout sessions with mentors.
Event participants who have ideas or are actively working on an in-depth story but need help can submit a pitch to compete for small awards to help complete their stories.
Those interested in competing for small monetary grants should fill out this form. We will be awarding these to a few newsrooms or individual freelancers who need help getting their story ideas across the finish line.
Student journalists also are encouraged to pitch (except those students currently at American University or Morgan State, which are co-sponsoring the event).
You do not have to pitch an idea in order to attend the event. And all pitch memos will be kept confidential and shared only with a small panel of judges.
Pitches are due by 5 p.m. ET March 18. Winners will be announced at the March 24th program.
Co-Sponsored By:
Investigative Reporting Workshop