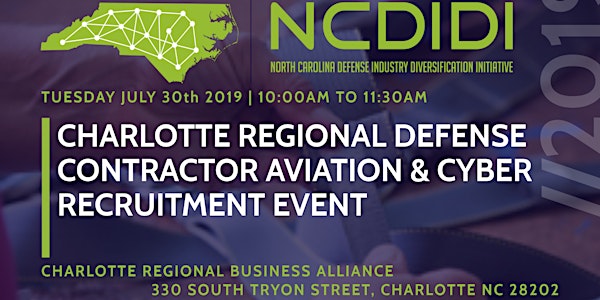 CHARLOTTE REGIONAL DEFENSE CONTRACTOR AVIATION & CYBER RECRUITMENT EVENT
From Reliance to Resiliency. NC DIDI works to aid Contractors that overly reliant on the Defense Industry. Learn more: www.ncdidi.com
When and where
Location
Charlotte Regional Business Alliance 330 South Tryon Street Charlotte, NC 28202
About this event
In a proactive response to changes in federal defense budgets, the North Carolina Defense Industry Diversification Initiative (NCDIDI) was created in 2017. The program is managed through a partnership between NC State Industry Expansion Solutions and the North Carolina Department of Military and Veterans Affairs. The goal of NCDIDI is to understand, support, and respond to the needs of North Carolina's defense businesses. This goal is accomplished by ensuring that the defense supply chain remains resilient and able to quickly respond to high demands from the Department of Defense.
NC DIDI is expanding their growth and diversification project. This phase is designed to help North Carolina's defense contractors in the aerospace and aviation supply chain diversify into alternative markets. The initiative also seeks to ensure that the defense supply chain remains robust by aiding companies in better understanding the Department of Defense's newest cybersecurity regulations. Companies on average will receive $50,000 in grant funding for technical assistance.
Come Learn About:
• The Initiative and The U.P.G.R.A.D.E. Program;
• How the US Department of Defense Spends Money in NC;
• Understand what their purchases mean for NC Economy;
• Discover what NC DIDI has done for Defense Contractors around the state; and
• How the new DoD Cyber Security Regulations will affect company bottom lines.
Typical Services Include but are not Limited to:
Cybersecurity Compliance, Core strengthening, Market diversification and growth, New Technology Commercialization, ISO Management System Implementation, ISO System Certification, Risk Management Analysis, ITARS Compliance, Project Management, Efficiency Improvement, Web Design, Search Engine Optimization, Supplier Scouting Services, Risk Management Analysis, OSHA Training and International Business Development
Click to see what our companies are saying.
Will You Join Us?
This program is funded through a grant awarded by the United State Department of Defense Office of Economic Adjustment.