Charlotte Mobility Forum: What School Should Be w/Clt Leaders & T.Dintersmi...
Description
Charlotte Community Forum on Education & Mobility: What School Should Be A Community Conversation with Ted Dintersmith & Charlotte Leaders
Attendees will watch a free screening of the acclaimed Sundance documentary about the need to transform Education in America -- Most Likely to Succeed -- which experts say, "This Film should be a Required Course for ALL Parents and Educators."
Afterwards, a "Community Conversation" with attendees will ensue as executive producer Ted Dintersmith is interviewed alone onstage. Then joining Dintersmith will be a group of local prestigious leaders who have been addressing the crisis that surfaced in Charlotte when a Harvard-UC Berkely Report recently found Charlotte ranked last out of America's 50 largest cities in terms of its youth being able to ever realize upward economic & social mobility. Dintersmith, the 2018 winner of the National Education Association's prestigious 2018 "Friend of Education" Award, also wrote the recent Amazon #1 best selling book on reinventing Education (What School Could Be) which features CMS' Olympic High School. Dintersmith is a recognized expert in Innovation and was a highly successful Wall Street venture capitalist in the high-tech space before retiring so he could refocus his expertise on advocating for Education through mediums that have encouraged America to consider real data and reflect upon the essential question, "What is Education For?"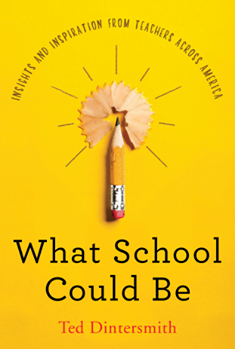 Panelists:
Ted Dintersmith, Author, Documentary Producer, Innovation & Education Expert
Dr. Clayton Wilcox, CMS Superintendent of Schools
Dena Diorio, Mecklenburg County Manager/Leading on Opportunity Council
Richard Zollinger, CPCC VP of Learning
Clifton Vann, CEO of Hyde Park Partners & NC Education Reform Advocate
Rod Garvin, Charlotte Chamber VP of Talent Development
Casey Jones, Principal, West Meck High School
India Gregory, Boeing Systems Engineer & CMS Grad/Benefactor of What School Should Be
David Phillips, Moderator, ex-Teacher & Design Thinking Expert @ Faster Glass Consulting
Other Charlotte Leaders engaged with mobilizing community efforts to address the Economic & Social Mobility Crisis in Charlotte have been asked to join the panel and will be listed upon definite confirmation.
Most Likely to Succeed Documentary Trailer -- https://www.youtube.com/watch?v=JE5XRrfetu4
Event Sponsors: Arrowood Business Association, Alignment SouthWest Charlotte http://alignmentswc.org/

Event Partners: Charlotte Chamber, Steele Creek Church, Episode 11 Productions, Olympic High School, New Forum, Ayrsley Village, Central Steele Creek Presbyterian Church, Steele Creek YMCA

1t agencies). Community members who attended the Summit are welcome to actively engage or be a spectator of this best practice and take it back to their school, business, or workplace.