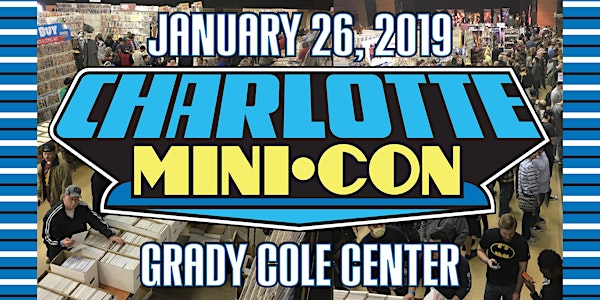 CHARLOTTE MINI-CON 2019
When and where
Location
Grady Cole Center 310 North Kings Drive Charlotte, NC 28204
Description
#CLTMiniCon
ADULT ADMISSION: $5
18 and under are FREE*
*Student or State ID required for anyone 15-18 years old.

Charlotte MiniCon is Charlotte's longest running comic convention and we stay true to our roots! A high concentration of vintage comics and great comic creators! It's all brought to you by Heroes Aren't Hard to Find the same folks who put on Heroes Convention. It will be a great time for the whole family! Check out the comic creators who are coming!

2019 Charlotte Mini-Con Guest List:
Duane Ballenger
Thomas Boatwright
Chad Bowers
Wes Brooks
Chuck Brown
Chris Brunner
Buno Books
Bridgit Connell
Mason Dickerson
Bo Fader
Stephen Green
Sanford Greene
John Hairston Jr.
Dustin Harbin
Jason Latour
Steve Mannion
Brockton McKinney
Drew Moss
Eraklis Petmezas
Pat Quinn
Rico Renzi
Budd Root
Stephane Roux
Hoyt Silva
Chris Sims
Andy Smith
Brian Stelfreeze
Matt D Wilson (writer)
& Many More!
2019 ARTISTS ANNEX:
Bernie Cooke
Luke Foster
Devin King
Joe Lisi
Anthony Maldonada
2019 Charlotte Mini-Con Exhibitor List:

501st Carolina Garrison
Apocalypse Comics
Basement Comics
CBCS – Comic Book Certification Services
Chris Foss Rare Comics & Collectables
David Burns
David Shankle
Dustin Lineback
Jason Hamlin
John Bruhn
Karl Terrana
Krista Allison
Leesa Pauling
Memories Lost and Found
Steve Smith
TNT Comics
COSTUMES / WEAPONS CHECK:
While we will not be holding a Costume Contest at our 2019 show, the Charlotte Mini-Con encourages attendees who wish to attend in costume to come out and have fun! Please see the below posted information from the GRADY COLE CENTER and be advised that there will be a weapons check at the door and that all costume props must be either wooden or plastic to comply with the Grady Cole Center weapons policy. All replica weapons will need to be inspected and approved as a non-functional prop at the door before they will be allowed inside the Grady Cole Center. No metal weaponry of any kind will be allowed inside the Grady Cole Center. We appreciate your understanding and look forward to seeing all the great costumes this weekend!
(Note: We ask that you please be respectful to the artists and exhibitors at Charlotte Mini-Con when taking photos with our costumed attendees. Please try not to block anyone's set-up when taking photos, and if you would like to stage a group photo, please try to do so outside of high-traffic areas. We want everyone to have a great time at our show, and appreciate your help!)


FROM THE GRADY COLE CENTER:
The following rules are to ensure the safety of those in attendance, and to allow those in costume to wear them responsibly within the venue. We appreciate the time and effort put into the creation of your costumes, props, and replica weapon/weapon-like items and understand that props and weapons are often a vital part of a character's costume. However, safety come first, therefore, it is imperative that any props, weapons or weapon-like items (called 'weapons' from here on forward for simplicity's sake) comply with the venue policy, as well as with all local, state, and federal laws. This policy is not a summary of the laws nor does this policy constitute legal advice. You are solely responsible for understanding and complying with all applicable laws.

Inspection Process
All persons, bags, back packs, costume props and accessories will be subject to metal detection and inspection in the screening area prior to entering the venue. All props and accessories will be tagged for identification as a security measure. Any individual found inside the facility with a prop or accessory that is not tagged will be directed to the security screening area to receive an inspection and tag. There may be times where a judgement call by the inspectors will need to be made on the acceptability of a prop or weapon. Please understand that security reserves the right to refuse the entry of any prop or weapon it deems unfit, ill-constructed or unsafe to the event.
Brandishing
Brandishing is defined as drawing, exhibiting, waving or using any item, prop or weapon in an unsafe manner. Any such display of an item, prop or weapon in an aggressive or threatening manner, real or implied regardless of intent, or any other activity thought to be unsafe is strictly prohibited.

*The only exception to the brandishing rule is for photography/videography. For the limited period you are posing and if the area around you is clear of bystanders. You pose with an item, prop, or weapon in a brandishing-like manner so long as no reasonable person would interpret the pose as anything but safe and no real threat. However, please exercise great caution when doing so – we want everyone (including yourself) to be safe! Misuse of a prop or weapon can be considered grounds for removal or ejection from the facility. Anyone found fighting (simulated or otherwise) or threatening someone with an item, prop, or weapon will be immediately removed from the facility.
The Security Staff, in their sole and absolute discretion, are empowered to determine whether an act constitutes "Brandishing" and its severity.

PROHIBITED MATERIALS AND SHAPES FOR WEAPONS / PROPS
• NO METAL
• NO BRITTLE MATERIALS (glass, acrylic sheet)
• NO SHARP EDGES OR POINTS – NON-RIGID, SOFT MATERIALS ONLY

Clubs & Bludgeoning Weapons
• Keep weight in mind – the bigger an item is, lighter the construction material is required

Miscellaneous Weapons
• No kunai – all kunai-type weapons regardless of construction material may not be used.
• *Kunai is defined as any hand held small "dagger like" knife
• Bows and slingshots may be used, but without bowstrings and propelling tubing
• Chains – no metal chains (Plastic chains are acceptable)
• Whips – whips which are peace-bonded to prevent uncoiling will be permitted.
Grady Cole Center and American Legion Memorial Stadium
Costume and Props Policy
Document Last Edited: January 4, 2019
Guns
• No replica guns of any type (REPLICA GUNS will be defined as any gun manufactured to look and feel like a real gun)
• No metal pellet / BB guns are allowed
• No paintball or airsoft guns are allowed
• No Replica ammunition, projectiles such as hand grenades, TNT, explosives etc.
• 'Nerf'-type weapons – allowed as long as no ammunition is present
• Water guns – allowed as long as no liquid is present
Airspace
No devices may be flown or tethered within the confines of the property. This includes drones, helium balloons and helium-filled products, or any lighter-than-air objects either powered or unpowered.

OTHER NOTEABLE RULES & PROHIBITED ITEMS:
• No Bicycles, Scooters, Skateboards or Hoverboards
• No Handcarts, Trolleys, Rolling Luggage, or Oversized Strollers
• No Selfie sticks, GoPro poles, stilts, or any device that extends your camera or phone away from your hand or body
• No Smoking, Including E-cigarettes and Vaping Products and Devices
• No outside food and beverages
• No costume themed live animals - SERVICE ANIMALS ONLY
Please budget additional time for the inspection of your costume, your props and bags. We recommend bringing as little as possible to get through the screening station quickly and efficiently.

Thank you for your compliance,
Grady Cole Facility Management