Description
PLITZS Fashion Marketing-Charlotte is excited to present the 2017 Charlotte International Fashion Week-- Runway for Peace Friday, April 28th and -29th @ 8.2.0 inside the AvidXchange NC Music Factory
Saturday Night Hosted by

WSOC-TV News Anchor Brittney Johnson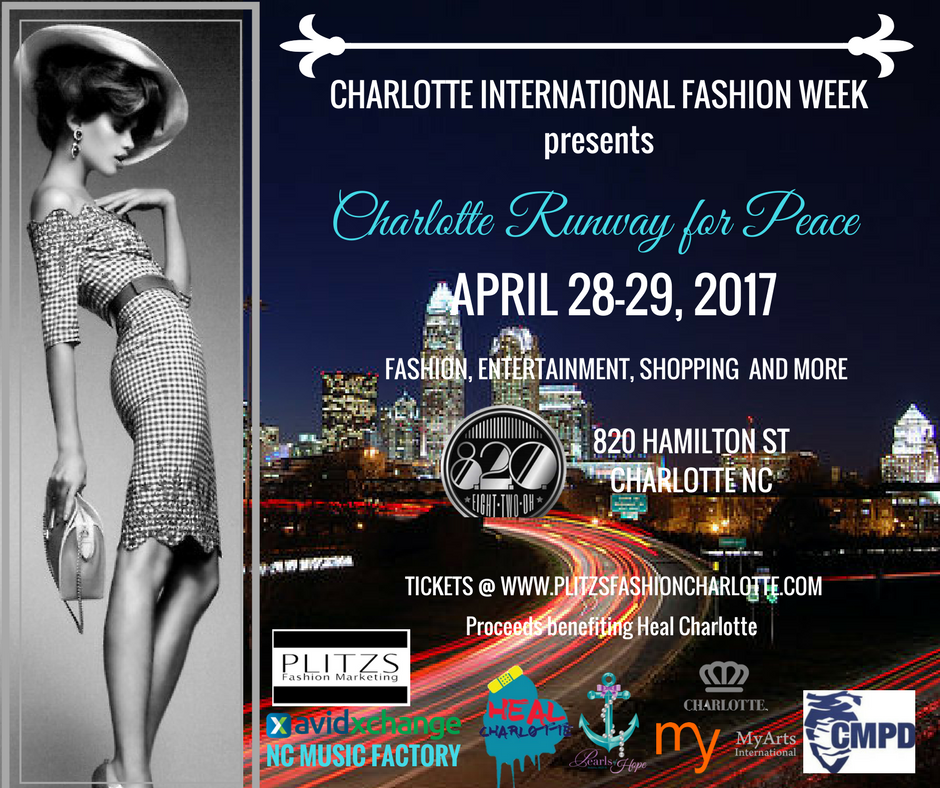 PLITZS Fashion Marketing invites you to join them for two days of elegant fashion, art and networking during the Charlotte International Fashion Week-Runway for Peace Fashion Charity Showcase benefiting Heal Charlotte April 28-29th at 8.2.0 Hamilton Street located inside the AvidXchange Music Factory.
Charlotte Runway for Peace will feature 18 high-energy fashion runway shows featuring children fashion, ready-to-wear, and couture designs presented by fashion designers and visual artist from Charlotte, Columbia SC, Charleston SC, Virginia, Chicago, Louisiana and Wisconsin.New York and Miami. Also included in the show is a special presentation by UNYQ Armor designers of hi-tech, fashion forward prosthetic covers.
Come enjoy a fun evening of fashion, cocktails, music and networking along with special invited guest and, our Saturday night host, WSOC-TV morning news anchor, Brittney Johnson. Help us by supporting our- mission to end violence in the community, push for diversity and inclusion and, provide positive role models for our future generation of leaders. Proceeds from Runway for Peace benefit the Heal Charlotte Dream Academy Youth Camp.
General admission and VIP tickets are for sale Friday and Saturday. Guest may purchase a separate ticket for Kids show only and or a combined general admission ticket for all Saturday shows.
#healcharlotte #runwayforpeace #diversity #peace #fashion. For more information please visit www.plitzsfashioncharlotte.com
Sponsors/Supporters
Plitzs Fashion Marketing, AvidXchange Music Factory 8.2.0 UNYQ, MyArts International Pearls of Hope Outreach