The Charlotte Harbor Nature Festival is a regional family-friendly celebration where people can learn about topics affecting the natural environment of southwest Florida. This is accomplished through a wide variety of activities for adults and children, which include guided walks in Tippecanoe Environmental Park, hands-on activities, exhibits, vendors, music, a Children's Discovery Zone and more. We have established ourselves as an annual community event that continues to grow and enrich the lives of our citizens. We hope you will join us at 15th annual festival, making it bigger and better than ever.
Admission and parking are both free. There is no rain date. There is no need to register to attend the festival.  For more details about the festival, visit www.CHNEP.org/CHNF.html.
Thank you for considering these requests to participate as a volunteer, sponsor and exhibitor.
Volunteers: If you'd like to help, please send an email to maran@chnep.org explaining how you would like to be involved and the hours you can work.
This form allows you to register as a sponsor and exhibitor.
Sponsors: Festival expenses are covered by generous sponsors and proceeds from an on-site raffle. We're happy to accept sponsorships of all amounts. We must raise $20,000 to cover all festival expenses, including the free tote bags given to the public. Your support will be acknowledged in all promotional material created after the donation is received. To be listed on the tote bag you must donate $1,500 or more. The Friends of Charlotte Harbor Estuary, Inc. (www.CHNEPfriends.org) is the  fiscal agent for the festival. (Raffle items are considered a separate and additional donation from sponsorship donations.) If you would like to sponsor the festival with an in-kind donation (media, reduce rentals, etc.), please send an email to maran@chnep.org explaining the service you will provide as well as its value.
Exhibitor/Vendor: All exhibitors and vendors can be any type of organization as long as it relates the natural environment of southwest Florida. There is no fee but we ask that you donate item(s) valued at $25 or more to the Festival raffle. Please bring your raffle items with you on Nov. 22.
The festival provides large tents to be shared by multiple exhibitors and one table for each exhibitor. In a few cases, more than one table may be available. The size of each tent and the number of tables is based on the 2013 festival. If more or fewer register as exhibitors, we can adjust the size of the tents. When you register on EventBrite as an exhibitor, you can select the table in the tent with your preferred table placement. Only exhibitors at tables on the far "outside" of each tent (rows C and D) will be allowed to hang banners from the tent. Others aren't allowed to hang banners as they will obscure visibility.
Exhibitors who wish to be placed outside of these large tents are welcome! Tents are placed so there's about 100 feet between two "rows" of long tents, making it a perfect place for those who wish to bring their own tents or have a standalone exhibit, such as Mote Marine Laboratory's touch tank.
If you are selling items and wish to be in a big tent, we recommend that you place yourself with other authors and artists. Many exhibitors give away material and sometimes items available for purchase have been taken by mistake.
General parking will be between tents and stadium, not along the side of the tents. This might help encourage people to enter through the "entrance" tent.
ENVIRONMENTAL STEWARDS (probably 40 x 120): ES for exhibitors whose information and activities are geared primarily for adults. (Tables are labeled A, B and C.)
FLORIDA-FRIENDLY (probably 40x100): FF for exhibitors whose information is only Florida-friendly practices as well as: authors, artists and who have a historical focus. (Tables are labeld D and E.)
CHILDREN'S DISCOVERY ZONE (probably 40 x 100): CDZ for exhibitors whose information and activities are geared primarily for children. (Tables are labeled F.)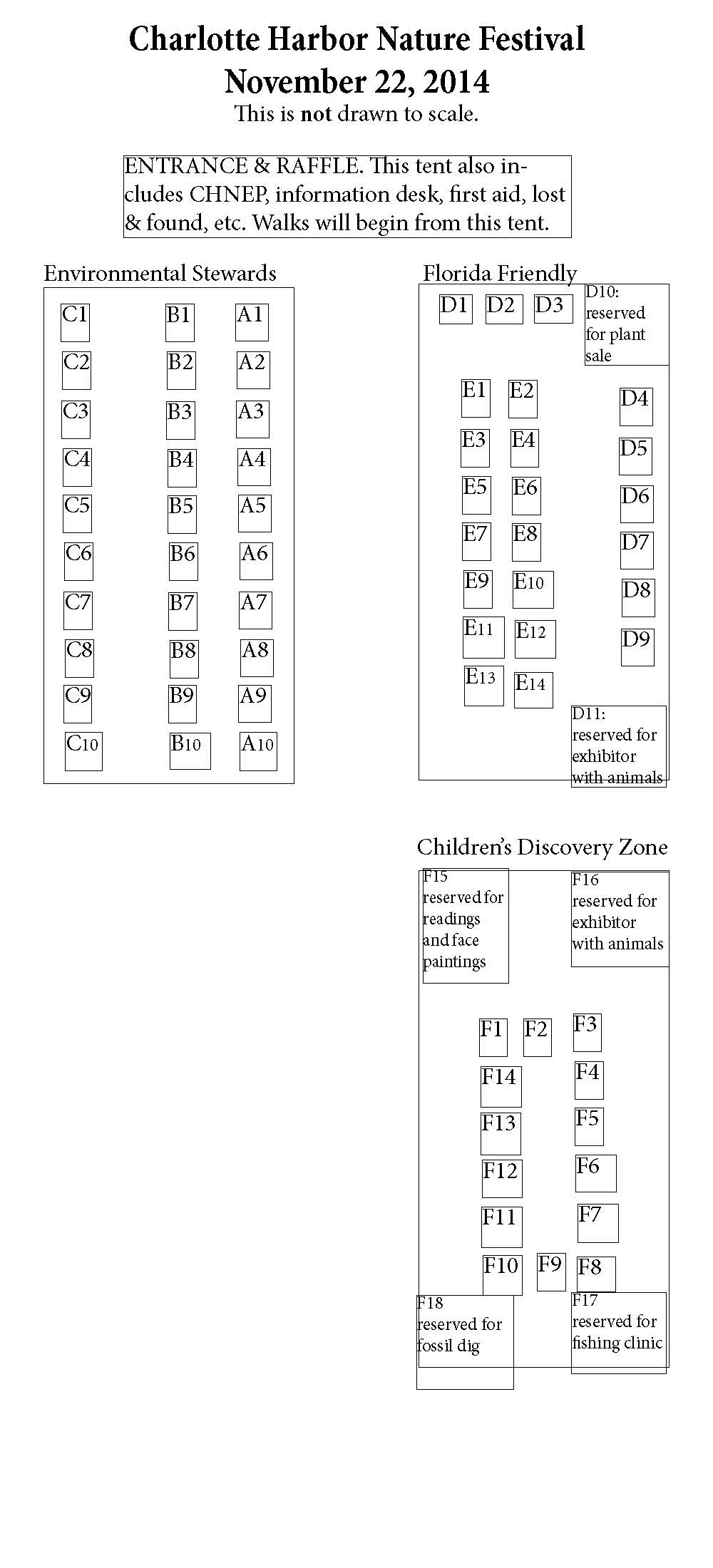 By registering as an exhibitor, the exhibitor agrees to protect and indemnify the sponsors, the  lanning committee and exhibitors of the Charlotte Harbor Nature Festival, the Friends of Charlotte Harbor Estuaries, Inc. as the fiscal agent as well as the Charlotte County Board of County Commissions, Community Services employees or agents for any damages or charges imposed for violations of any law or ordinance, whether occassioned by the negligence of the Exhbitor. The Exhbitor shall, at all times, protect and indemnify those listed against and from any and all losses, costs, damages, liability or expenses, including attorney's fees, arising from or out of or by reason of any accident or bodily injury or other occurrences to any person or persons, including the exhibitors, its agents or employees, which arise from or out of or by reason of said exhibitor's occupancy and use of the premises. Exhibitor shall be fully responsible to pay for any and all damages to property owned by the county, which results from any act or omission of the exhibitor.
 Thank you.