CHARLOTTE BACHATA OBSESSION - Nov 17, 2012

Ends Sunday, November 18, 2012 at 1:00 AM (EST)
Event Details
DJ Skip Lopes Presents:
Pasofino's Charlotte Bachata Obsession
November 17th 2012
The City of Charlotte has seen a Bachata Dance revolution as Jose Maldonado of PasoFino in Atlanta brought you the Charlotte Bachata Fling in 2011, and with DJ Skip Lopes Bringing you the 1st Charlotte Bachata and Salsa Festival in the Summer of 2012. Staying strong with our passion for Bachata dance and music, please join us at the Charlotte Bachata Obsession Event this Saturday Nov 17th at Move Studio.
Tickets On Sale Now at

...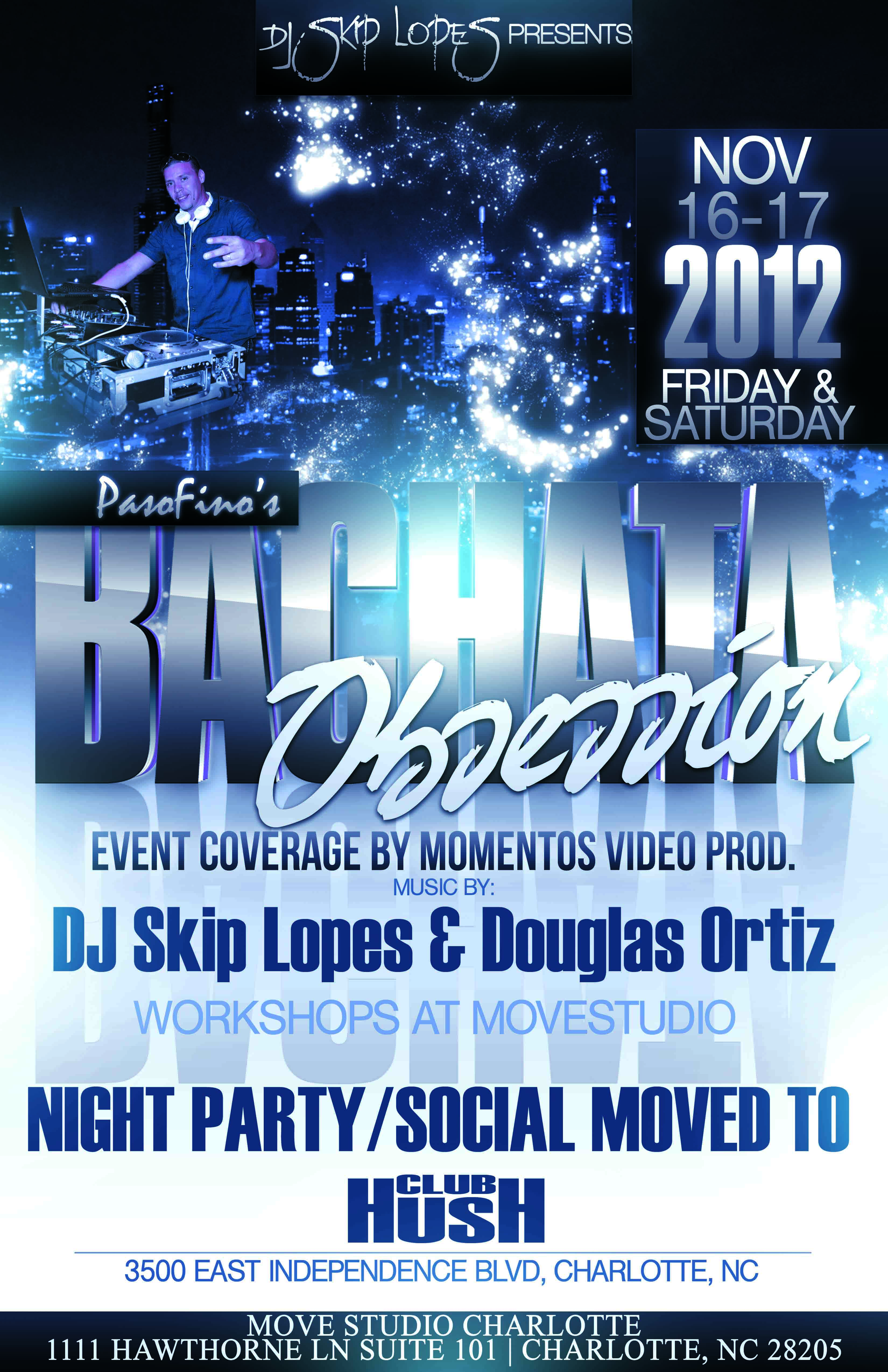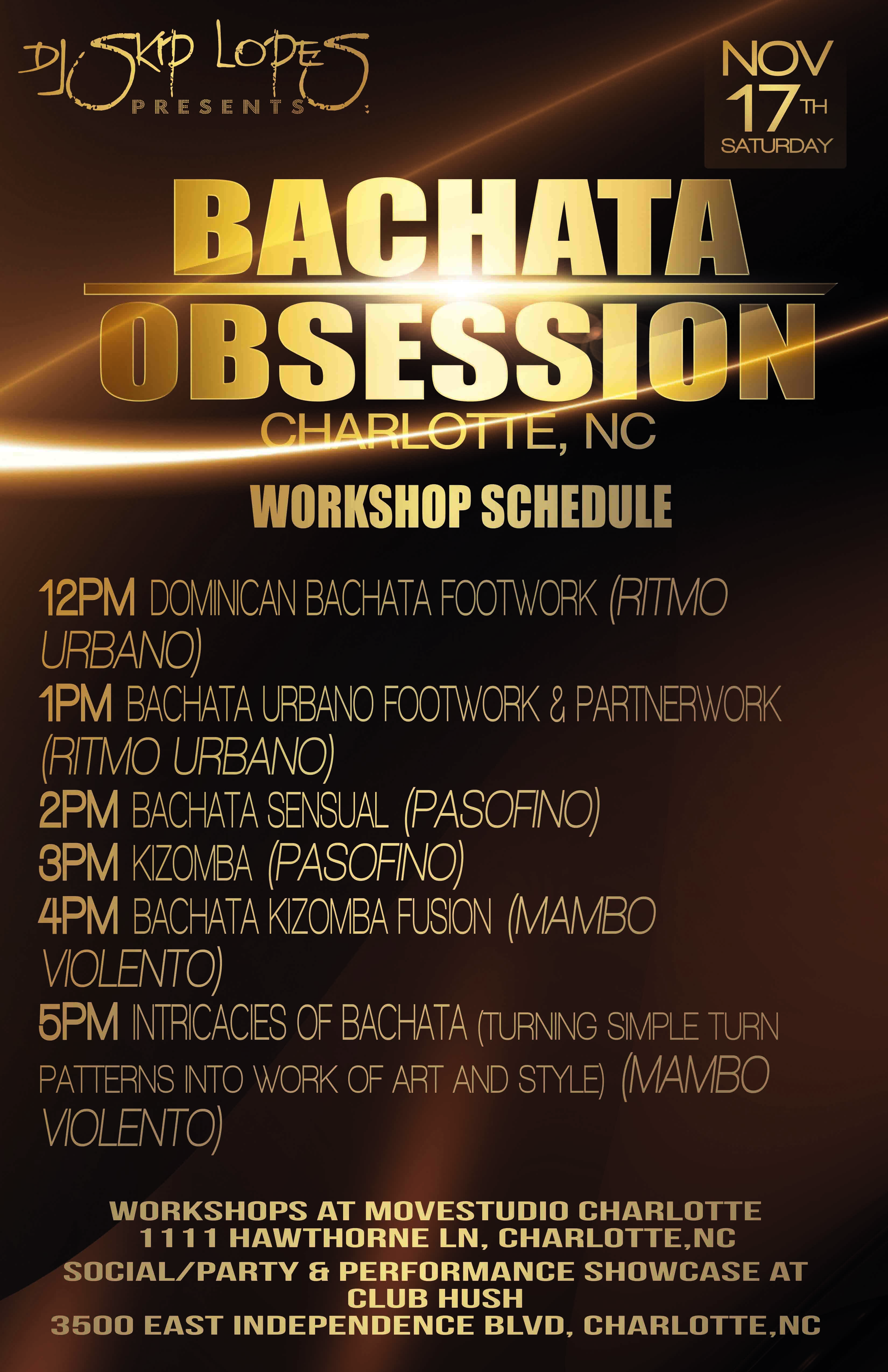 6hrs of Workshops from some of the Worlds BEST Bachata Instructors!
Followed by a Showcase performance by all 3 TEAMS!
PasoFino (Atlanta, Ga)
Ritmo Urbano (Tampa, Fl)
Mambo Violento (Austin, Tx)
Event Coverage By The Ninja Photographer himself! Daniel Tarrosa!
Stick around and practice your moves with your instructors as we Party with a Social to end the night!
Music Provided by DJ Skip Lopes & Douglas Ortiz (TX)
::::WHY COME TO THE CHARLOTTE BACHATA OBSESSION??
Full Day of non-stop Latin Dancing Fun, with 6 hours of Great Workshops And Professional Dance Showcases and lots of social dancing!
- Best Bachata, Salsa & Kizomba Music
- Awesome Showcases by PasoFino, Mambo Violento and Ritmo Urbano!
- 6 hours of Workshops
- World Class instructors &Performers
- Jack & Jill Pro-Am Contest and more...

::::WORKSHOP SCHEDULE: (Beginner to Advanced friendly Workshops)
12pm Dominican Bachata Footwork
1pm Bachata Urbano Footwork & Partnerwork
2pm Bachata Sensual (hot)
3pm Kizomba
4pm Bachata Kizomba Fusion
5pm Intricacies of Bachata (turning simple turn patterns into work of art and style)

::::BACHATA OBSESSION PARTY::::
DRESS CODE: WEAR PURPLE & PINK!!!
AT CLUB HUSH
3500 EAST INDEPENDENCE BLVD
CHARLOTTE, NC
9:30-10pm Bachata Crash Course by Jose Maldonado & Connie Lee
9:30pm - 2:00am Dance with DJ Skip Lopes & Douglas Ortiz
10pm ****Live Performances****


::::COST::::
$60 FULL DAY PASS (SATURDAY NOV 17th)
$10 OBSESSION SHOWCASE AND PURPLE & PINK PARTY

To register at www.bachataobsession.eventbrite.com
Because of Eventbrite fee's in addition to Paypal fee's, plus the refund fee from both companies, we will not issue refunds.  Please be sure you are able to attend prior to purchasesing a pass.  You are allowed to Transfer your pass to another person by simply sending us a request.
When & Where

Move Studio Charlotte
1111 Hawthorne Ln Suite 101
Charlotte, NC 28205


Ends Sunday, November 18, 2012 at 1:00 AM (EST)
Add to my calendar
Organizer
DJ Skip Lopes
DJ Skip Lopes is recognized as one of the leading and most respected salsa DJs on the East Coast. DJ Skip Lopes is known by North Carolina salseros as "DJ El ESkip". During his 20+ year career as a DJ he has developed a distinct and smooth style that varies from New York Salsa-Dura, Bachata to Kizomba, and he is equally comfortable playing many other genres in between. DJ Skip Lopes' bewitching blends of salsa, bachata, and kizomba enthralls all those who hear his beats and keeps them dancing until the early hours of the morning. Most importantly, DJ Skip gives salseros the music that has what they want: classic salsa sounds, strong dancer's rhythm and a nice melody line. In this time anyone who has heard DJ Skip Lopes, knows what "Last Song" means!
As a Cape Verdean born DJ, his musical inspiration streams from his Portuguese and African background, and his many years of traveling the country have contributed to developing his distinct, smooth and intoxicating flavor and sound. DJ Skip has appeared and headlined in some of the most popular Salsa and Bachata clubs, socials, Congresses and Festivals in Boston, Virginia, Charlotte, Atlanta, Orlando, Tampa, Miami, and everywhere in between. His signature DJ mixes evoke the salsa classics of Monga Santamaria, Sonora Poncena and Fania All Stars, the powerful arrangements of salsa dura, and the jazzy melodies of mambo, as well as, a variety of cha cha, merengue, bachata, and the extreme sensuality of kizomba and cabo love.
In the summer of 2012, DJ Skip created, organized, and was head-DJ of the Annual Charlotte Bachata & Salsa Festival attended by almost 800 Salsero's in it's very first year, an ode to the growth of bachata and salsa music in North Carolina, which he will continue to cultivate and expand in the years to come. Currently he resides in the Queen City of Charlotte and DJ's at Club HUSH. DJ Skip Lopes has brought the popularity of salsa, bachata and kizomba from the world to Charlotte. He keeps hundreds of dancers and salseros on their toes with the sounds that flow from his turntable, and will continue to do so for many years to come. His aim is to continue increasing the salsero and bachatero community in North Carolina and to take Kizomba to the mainstream dance scene throughout the region.
CHARLOTTE BACHATA OBSESSION - Nov 17, 2012