About this Event
DOORS: 6:00 PM, SHOW: 7:00 PM
AGE RESTRICTIONS: 21+
GENERAL ADMISSION, LIMITED SEATING
Important Notice:
- Due to events happening in HI-FI and LO-FI Lounge during the same time, LO-FI door, show and set times are subject to change. We try to avoid this but want to make sure artists in both rooms experience minimal sound conflicts. If a change occurs, we will message all attendees immediately.
- All tickets are nonrefundable and nontransferable with the exception of event cancellation or time change by venue.
- Support acts are subject to change.
----------------------------
About Charlie Parr:
CHARLIE PARR is the eponymous new album by the Minnesota-based folk blues artist the same name. The album is a collection of new songs and new studio versions of classics/audience favorites from throughout Parr's career and will be released September 27 on Red House Records. Recorded at Pachyderm Studio in Canon Falls, MN, CHARLIE PARR features Charlie's trademark resonator guitar and 12-string with co-producer Liz Draper on bass, longtime collaborator Mikkel Beckmen on percussion, Jeff Mitchell on electric guitar, accordion, organ, backing vocals, and Dave Hundrieser on harmonica. The album is an honest and raw recording of Parr reflecting on himself and his career up to this point. It's a musical reckoning that came after a freak accident less than a year ago that forced him to relearn how to play guitar, causing him to take stock of the songs he's written over his lifetime. CHARLIE PARR is a stunning folk record that will surely stand the test of time, just like the man himself.
The accident on August 3, 2018 could have put an end to Parr's career. Only a month earlier he had made his first appearance at the Newport Folk Festival, bookending a summer year of touring and career highpoints. Then, while skateboarding with his daughter along Lake Superior, he hit pavement. His right shoulder was busted into pieces and his ability to play guitar on stage again was suddenly in question. But, when playing the guitar is intertwined with who you are, not playing really isn't an option.
He underwent surgery that left him with a metal plate and eight pins holding his reconstructed shoulder together. Within days, as soon as he could tabletop his guitar across his lap, Parr was playing again. Three weeks later he made a pain-filled return to the stage with an appearance on the Live from Big Top Chautauqua radio show.
"It's the defining thing in my life," Parr says. "When you think about yourself, you think, 'That's what I am. I'm the guy that plays guitar.' So what happens when that gets stripped out? If there's any way you can keep doing it, you're going to keep on."
But not everything returned to the way it was; his outlook had been altered.
"I'm not really that interested in careerism," Parr says. "Part of the effect of the accident was a reaffirming of what's really important to me. That's not a music career, it's just making music. That's what counts the most — having pure motives and loving intention."
By the time Parr hit the road again, he was reinvigorated to play music in a way he had not been for some time. He started digging out songs from early in his career.
"I can revisit any of them I want and meditate on what it was like to be seven years old again, curious about the guitar, obsessed with music and hoarding bike parts," he says. "I can relive all the joyful times I had with my friends and family. I can grieve all over again my Dad's passing; I can feel my stomach turn at the mountains of regret that I've amassed and the people I've hurt when I've been too self-absorbed to take better care of my actions, but I can't change it.
"Songs are a different kind of history though, they're not subject to the rules of time, they never died and they never will, and they grow and evolve right along with the rest of me."
Parr had never really stopped playing those songs completely and, along the way, they had matured along with him. He wanted a chance to record them again to capture what they had become.
"I recorded some of those songs almost 20 years ago and, when I think about what my mind was like at that time, it's not what it is now," he explains. "In a way, I've been re-writing them over and over again for the past two decades."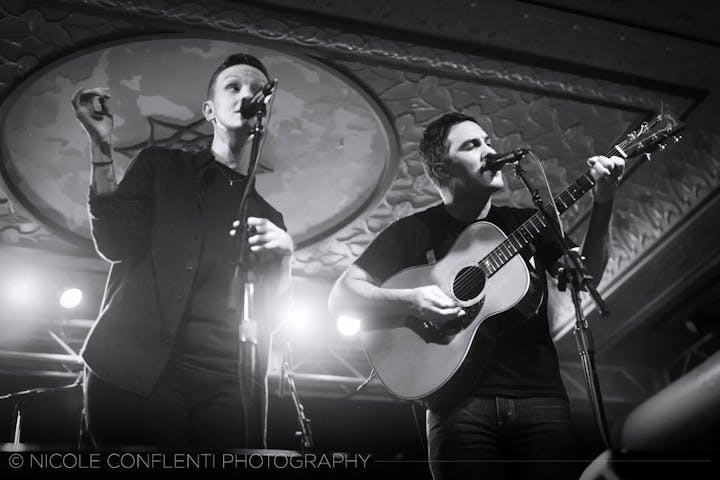 About Keller & Cole:
Formed in October of 2014, Keller & Cole crafted the sincere yet powerful acoustic duo out of their home base in Indianapolis. Their collaborative sound is deeply rooted in their passion to break barriers with music. Keller & Cole's intimate presence and blended voices invite the audience to listen closely to their carefully constructed lyrics.
With the release of their self titled EP, Keller & Cole bring a new feel to a clashing of genres. Lush with addicting progressions, soulful vocals, and a heavy pop edge, the record boasts the aesthetic of indie pop anthems. Though the songs are diverse from one another, there is a glue that holds them all together much like a concept album would. Most importantly, the EP never loses sight of the emotional platform great songs are built from.
The first single, "Plain, Loud & Clear", is an instant folk pop classic. Complete with smooth vocal harmonies, and a huge chorus, the song seems to breathe and build as it plays on.
"It means truth. It's about finding a truth or your truth and not wanting to let it go. It's about the moment when something clicks and makes sense, and not wanting to leave that moment of clarity that moment of comfort. It was the first song written from this batch of songs. It was the first successful attempt to write something very relevant personally but also in a very condensed and commercial way so that it could be relate-able to the most people possible." explains songwriter Landon Keller of the bands single.
Although the single does speak volumes for the EP, to get a real understanding of where the duo is coming from, it should be heard in its entirety.
"Getting together with Kara has forced us both to be much more clean and dynamic with our delivery, much more clear with our message and with much more room for emotion and ability with harmony and melody. The album as a whole is candid and doesn't apologize for bluntness of content", says Keller of the album and songwriting style.
Landon Keller and Kara Cole got together in late 2014 when Cole invited Keller to perform for the one year anniversary of a program herself and her mother put together for teens struggling with addiction. The two met earlier as the two were running around the same music scene though they never actually discussed any collaboration. In the midst of the anniversary show, Keller called Cole onstage to perform with him and it was, for the most part, perfect. They knew they were onto something special and it was obvious the audience agreed. Although Keller already had his solo project and was front man for another band, the two decided after getting to know each other better, that it was a good thing to pursue. The two began writing songs together and eventually the self titled EP was born.
Having shared the stage with the likes of Lera Lynn as well as Josh Kaufman, winner of The Voice, the duo are certainly not new to spreading the music through live performance.