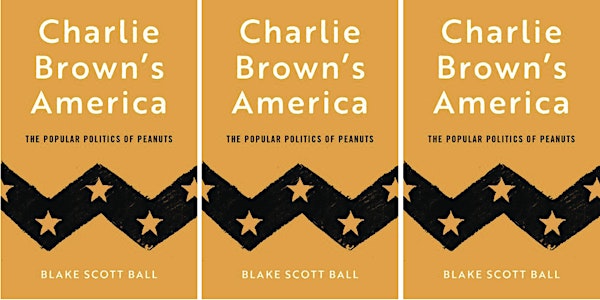 Charlie Brown's America | Blake Ball
Historian Blake Scott Ball takes on the politics of the age-old Peanuts comics.
By Center for Presidential History at SMU
Date and time
Thursday, October 7, 2021 · 6 - 7:30pm CDT
Location
SMU Campus, McCord Auditorium, 306 Dallas Hall 3225 University Boulevard Dallas, TX 75205
About this event
Despite--or because of--its huge popular culture status, Peanuts enabled cartoonist Charles Schulz to offer political commentary on the most controversial topics of postwar American culture through the voices of Charlie Brown, Snoopy, and the Peanuts gang.
In postwar America, there was no newspaper comic strip more recognizable than Charles Schulz's Peanuts. It was everywhere, not just in thousands of daily newspapers. For nearly fifty years, Peanuts was a mainstay of American popular culture in television, movies, and merchandising, from the Macy's Thanksgiving Day Parade to the White House to the breakfast table.
Most people have come to associate Peanuts with the innocence of childhood, not the social and political turmoil of the 1960s and 1970s. Some have even argued that Peanuts was so beloved because it was apolitical. The truth, as Blake Scott Ball shows, is that Peanuts was very political. Whether it was the battles over the Vietnam War, racial integration, feminism, or the future of a nuclear world, Peanuts was a daily conversation about very real hopes and fears and the political realities of the Cold War world. As thousands of fan letters, interviews, and behind-the-scenes documents reveal, Charles Schulz used his comic strip to project his ideas to a mass audience and comment on the rapidly changing politics of America.
Charlie Brown's America covers all of these debates and much more in a historical journey through the tumultuous decades of the Cold War as seen through the eyes of Charlie Brown, Lucy, Linus, Peppermint Patty, Snoopy and the rest of the Peanuts gang.
Blake Scott Ball is Assistant Professor of History at Huntingdon College, and Chair, Department of History and Political Science.
We will not have a reception before this event.  Parking will be available on the SMU campus. FREE passes will be emailed to registered guests before the event. Seating is limited, and not guaranteed. This event will be recorded and available for viewing on our website (smu.edu/cph) about a week after the event date. Ball's publication of the same title will be available for purchase and signing after the event.
TEACHERS ONLY -- Please sign in at the registration table to receive continuing education credit.
Effective August 12, SMU has implemented a temporary mask requirement in indoor spaces on campus including classrooms, event and meeting spaces, and commons areas in all buildings and residential halls, regardless of vaccination status.
We hope you can make it!
About the organizer
The Center for Presidential History at SMU is dedicated to exploring the story and legacy of the nation's chief executives through cutting-edge research, academic and public forums and production of archival records for future generations through a wide-ranging presidential collective memory project.