About this Event
"I love timeless songs," says Charley Crockett. "I've always believed that the more timeless songs you learn how to play, the more timeless songs you can write."
Crockett's unique approach to American roots music — a mix of Texas blues, classic country and Cajun soul — has earned him an audience on both sides of the Atlantic. Long before he toured the country in a bus once owned by Willie Nelson, though, he cut his teeth as a street performer, busking on the corners of New Orleans and the subway cars of New York City. It was a hands-on musical education. Surrounded by the chaotic noise of city life, Crockett learned how to project. He learned how to hold a crowd's attention. Most importantly, he learned a long list of classic songs from the jug bands, brass players and fellow songwriters with whom he shared the street. Filled with vivid storytelling, raw honesty and rich southern heritage, those classic tunes would eventually inspire his own original music.
He pays tribute to those busking days with Lil G.L.'s Blue Bonanza, an album stocked with Crockett's own interpretations of old-school country songs and half-forgotten blues gems. Featuring 15 songs originally performed by George Jones, Ernest Tubb, T-Bone Walker, Jimmy Reed, Charles Brown, Lavelle White, Ray Charles, and others, Blue Bonanza shines a light on a modern musician with traditional roots. It's also the second release in his ongoing Lil G.L. series, following 2017's Lil G.L.'s Honky Tonk Jubilee.
"The roots of the street are deep in this album," says Crockett, who co-produced Blue Bonanza during two days of inspired, live-in-the-studio recording. He tracked the songs with his road band, capturing the chemistry generated by a year of heavy touring. Together, Crockett and company decorated these songs with upright bass, electric guitar, mandolin, pedal steel and Wurlitzer, combining acoustic and amplified instruments into the same retro-minded mix. "There's a lot of accordion and trumpet here, too," the frontman adds, "and that comes from me playing with brass bands in New Orleans. You've got all that brass and soul in the New Orleans sound, but you've also got that street sound. I heard a lot of jug bands doing old-school music down there, and I'm just trying to keep that old sound together."
It was blues music that ultimately brought Crockett back home to Texas. Raised in rural San Benito by a single mother, he left the Rio Grande at a young age and embarked upon a life worthy of his ancestor, American folk hero (and fellow wanderer) Davy Crockett. Charley worked on farms in California. He lived on the streets of Paris. He wandered his way through North Africa. Returning to Texas after a decade of street gigs and subway performances, he found a state bursting with new musical opportunities. He also found a kindred spirit in Jay Moeller, a legendary Texas musician steeped in similarly bluesy influences. It was Moeller who began calling Crockett "Lil GL," a nickname modeled after GL Crockett — an obscure 20th century musician who, like the young Charley, built his reputation upon a mix of classic country twang and raw, bluesy bang.
A reinterpretation of GL Crockett's 1965 R&B hit, "It's a Man Down There," serves as one of Blue Bonanza's many highlights. Also filling the tracklist is a rockabilly cover of the Van Brothers' "Servant of Love," a country-soul version of Danny O'Keefe's "Good Time Charley's Got the Blues," and a reverent, slow-burning take on Lavelle White's "Lead Me On." Much of the album's source material is taken from mid-century artists who made their mark in Texas and Louisiana, two states whose influence can be heard in Crockett's phrasing, southern drawl, and regional punch.
"When people ask me what I do, I tell them I play Texas and Louisiana music," he says proudly. "People call me a stylistic chameleon, and I like that. This is soul music. It's blues. It's country. It's just music."
Don't mistake Charley Crockett for a covers-only musician. He's a prolific and fiercely creative songwriter, with Blue Bonanza marking his fifth release since 2015 and second in 2018 alone, following the critically acclaimed Lonesome As A Shadow released earlier this year. Few contemporary artists can match that output. Rolling Stone said Lonesome As A Shadow was one of the "25 Best Country and Americana albums of 2018 so far" back in June (alongside artists like Willie Nelson, Brandi Carlile, Kacey Musgraves and John Prine), and NPR World Café praised Charley for his "hard-earned version of optimism that's nothing short of inspiring."
Crockett is also constantly touring, playing 200-plus shows in 2018 in the U.S., UK and Europe (and over 400 since releasing In The Night in 2016), and has toured in the past with Turnpike Troubadours, JD McPherson, Old Crow Medicine Show, Margo Price, Lukas Nelson, Shooter Jennings and many others. Crockett has played for over 150,000 people this year, and continues to build a loyal fan base at home and abroad.
The Lil G.L. series allows Crockett to interpret some of the songs that have shaped his own approach to writing, aligning with a number of classic crooners along the way. Years ago, Willie Nelson, Loretta Lynn, Ray Charles and George Jones all found a similar balance, mixing their own material with covers of songs by other artists.
"I think that the best artists, whether they're working in country music or hip-hop, are always bringing the tradition back to the front," he says. "I believe America's greatest era of songwriters already happened, and the people who are pushing it forward are drawing heavily from the older stuff."
On Lil G.L.'s Blue Bonanza, old sounds new again.
AGE 21+
DOORS 7:00PM
SHOW 8:00PM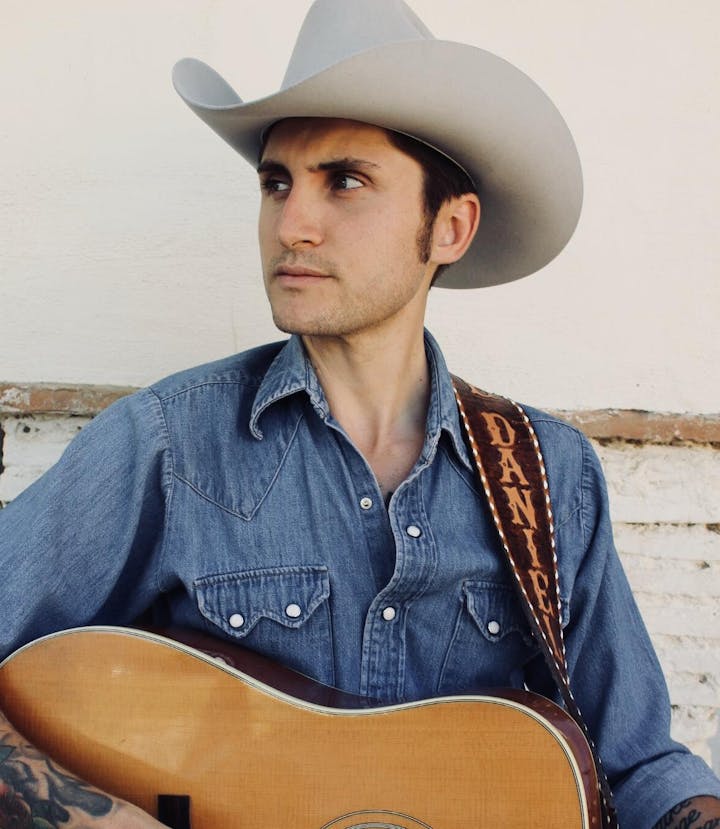 Jesse Daniel grew up in the small mountain town of Ben Lomond, CA. Hard times hit and his parents split up, resulting in heavy, ongoing turmoil. Daniel and his brother would help their mother scavenge metal at the local landfill, which she would weld and sell at the flea market, to put food on the table. The winters were long and cold in the converted barn the family called home, making the summer season a respite to look forward to. "I learned at an early age what it meant to work hard, and to endure." Said the singer of his youth.
His father, a talented musician and songwriter, instilled the importance of music in Daniel from an early age. He began pouring himself into music as a form of refuge, finding just that in the realm of punk rock. "I felt like there was a group of people who understood what I carried around on my shoulders… and they were just as pissed as I was." A gifted drummer, Daniel played in numerous punk bands. This introduced him to life as a traveling musician as well as steadily increasing his drug and alcohol consumption. The singer dropped out of high school, to play music and work a series of menial jobs. "I was so lost…" he said nostalgically, "I became a garbage can. Any drug I could get, I'd take, until I found heroin. After that it was a wrap, that's all I wanted to do." Music quickly took the back burner. "I started getting arrested and missing shows, to the point where I sold my drums just not to get sick. I traded everything for nothing." The next several years would be a series of stints in rehab, jail and homelessness.
"Some people call me crazy, some people call me stoned, others say I'm strung-out destined just to be alone"
The lyrics of "Soft Spot (For The Hard Stuff)", off of his self-titled release, ring true. Not knowing how to live without the very thing that was killing him, the singer made his way back to a Lower Ocean Street motel, and walked by a thrift store window with a stacked TV display. He saw a group of older homeless men watching a Rock & Roll band play on the public access television station through the glass. "They're pretty good!" one man said. Looking closer Jesse realized man playing on that TV screen was his father. Returning to the motel room with the other junkies he noticed the TV set was blaring in the background. An infomercial came on about a classic country CD collection, and Buck Owens played "Act Naturally". "I was mesmerized…" as Daniel put it, "Nobody else was interested, but it shined this little bit of light into my dark world. I held on to that." Some years later, while in a rehabilitation facility in Oakland, California, he heard someone playing a Hank Williams tune in the other room. "I had just enough in me to sit in a chair and listen to this guy I didn't know play." Daniel said. "I told him I wanted to play like him and he said, 'Why don't you?'" It was time to make a change. This was the final event of many that planted the seed in the singer's brain, and he began to write songs out of sheer necessity. Daniel reflects on bleak feelings of melancholy hopefulness from this time in "Looks Like Rain",
"Time goes on like always, one more time a sad song just like all the rest, I cant rewrite the history books, but I'll damn sure do my best."
It had taken years of being lost to realize what he was meant to do all along. After getting back on his feet, the singer bought a Fender guitar at a pawnshop for $50 and began writing songs. He assembled a band and began playing bars and clubs, quickly gaining notoriety for his energetic music and rowdy showmanship. "One of the biggest rewards so far has been the opportunity to make new friends and share the stage with other musicians I admire." Said the singer in reference to playing with heroes of his such as, Wayne "The Train" Hancock, Phil & Dave Alvin, Junior Brown and more. Jesse takes inspiration regarding his musical work ethic from the late Buck Owens,"The harder I work, the luckier I get."
With the blood, sweat and tears of past and present, Daniel cut and co-produced his debut self-titled album, playing many of the instruments himself, including all drums, percussion and guitar. The record holds true to Daniel's character, taking you for a ride through the singer's life, gritty realism and tongue-in-cheek anecdotes. The album is set to release May of 2018, and he and his band will be touring extensively to support it. "To me this album embodies my journey. I'm grateful to be here, and I'm trulyproud of this record. If my story can help anyone going through a struggle of their own, I've done my job and paid it forward. Now the real work starts."