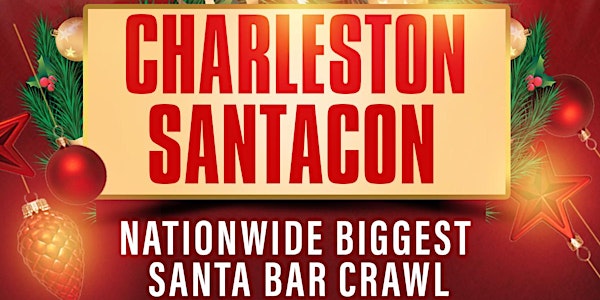 Charleston SantaCon 2023
SantaCon! Come dressed in your best Santa outfits, ugly sweaters, reindeer costume or even a Christmas tree lets get lit!
Date and time
Saturday, December 9 · 1 - 8pm EST
Location
Charleston Charleston Charleston, SC 29401
Refund Policy
Contact the organizer to request a refund.
About this event
Charleston SantaCon 2023 🎅
As Seen on T.V. & Social Media
Welcome to Charleston SantaCon 2023, the most anticipated holiday extravaganza of the year! Get ready to immerse yourself in a celebration that brings together thousands of cheerful Santas, elves, and holiday enthusiasts from all corners of the city. SantaCon 2023 promises to be bigger, better, and more festive than ever before, spreading merriment and goodwill throughout our beloved community.
This December, the city streets will transform into a vibrant sea of red and white as participants don their Santa Claus suits, elf costumes, and reindeer antlers. This year's SantaCon will take place in the heart of the city, with various bars, venues, and we all join in on the holiday festivities for an unforgettable day of cheer with pubcrawls.com.
The festivities kick off as the Santa army gathers to rage Santa style. Spirits will be high, and anticipation will fill the air as Santas mingle, exchange greetings, and compare their creative outfits. Whether you prefer the classic red suit and hat or want to highlight your unique Santa style, the diversity of costumes is a sight to behold. Get ready to immerse yourself in a sea of Santas, spreading smiles and laughter wherever you go.
Participating venues, carefully curated to provide an exciting variety of experiences, will welcome the merry crowd with open arms. Embrace the festive atmosphere as you hop from one venue to another, enjoying holiday-themed drinks, lively music, and the company of fellow Santas. From cozy bars serving crazy drinks, to lively nightclubs pulsating with cheerful beats, there is something for everyone at SantaCon 2023.
SantaCon is not just about bar crawling; it's also an opportunity to give back to the community. Throughout the day, various charitable initiatives will be in place to support those in need during the holiday season. From toy drives to fundraising efforts, SantaCon participants are encouraged to spread goodwill and make a positive impact on the lives of others. Together, we can embody the true spirit of Santa Claus and make a difference in our community.
Safety is a top priority at SantaCon 2023, please remember to drink responsibly, stay hydrated, and be respectful to fellow Santas and the surrounding community. Let's create a joyful atmosphere that brings smiles to faces and leaves lasting memories for everyone involved.
Mark your calendars and join us for the Charleston SantaCon 2023, where the magic of the holiday season comes to life. Grab your Santa hat, polish your boots, and prepare to embark on a jolly adventure like no other. Spread the holiday cheer, create unforgettable memories, and celebrate the joy of SantaCon together with thousands of like-minded revelers. This is SantaCon 2023—let the festivities begin!
Important Event Information
click HERE for more info for more about Charleston Events
WHEN:
Saturday, December 9th, 2023
WHERE:
Charleston, SC
The Hook Up 🚨
Pubcrawls.com Wristband
FREE entry to the best venues
Exclusive Drink Specials
Select Food Special
Costume Contest
Look out for a feature on our social media!
DJs at Select Venues
Digital Bar List
On-Site Staff
Cancellations & Refunds Information
The event is for 21+ only
In the event of cancellation, for any reason, all ticket holders will be contacted.
There is a strict "no refunds" policy
If you are unable to make it to the event, you can receive a credit toward a future event.
Please drink responsibly and never drink and drive!
Questions check out our FAQs page https://pubcrawls.com/faq/
CONTACT US
We have a dedicated customer service team working around the clock to answer all of the inquiries that are sent to our desk around the nation. Whether it's an issue with tickets, or confusion regarding an event, please contact us and we'll gladly tend to every question that you have. We have members of our staff constantly waiting to help, so rest assured that your question will be answered in a timely manner.
Contact Email: Info@pubcrawls.com
About the organizer
Producing fun, safe, and social drinking environments for over a decade - including top nightlife holiday events such as Halloween, Cinco de Mayo, St. Patrick's Day, New Year's Eve and countless others. Explore the hundreds of annual events organized every year!
Must be at least 21 years old to participate; valid state ID required. Advertised drink specials, participating venues, and advertised times are subject to change and may vary. PubCrawls.com promotes safety and urges all participants to drink responsibly. If a venue is at capacity, we kindly ask that you either wait or proceed to another venue on the crawl. Participants must bring their print-at-home ticket to the registration venue in order to retrieve the their wristband and map. If there are multiple starting locations (registration venues), you only need to choose one (1). At each of the registration venues, our event staff distribute the same PubCrawls.com wristband(s) and customized map(s) that will allow you to access the entire crawl and take advantage of the drink specials throughout the city. Prices may vary by registration venues due to the popularity of the starting location. You will receive the exact same wristband and map at any of the registration venues. No refunds. All sales are final. Prices are subject to change while supplies last.