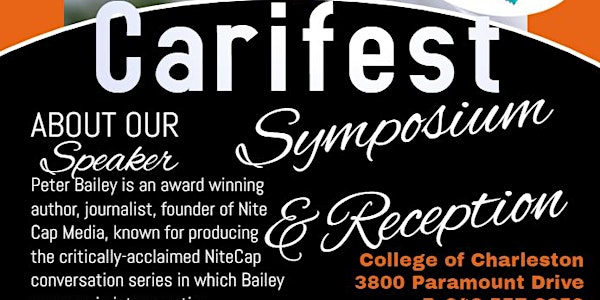 Charleston Carifest Symposium & Opening Reception
When and where
Location
College of Charleston 3800 Paramount Drive N.Charleston, SC 29405
Description



Celebrate Caribbean Culture and Heritage during June, Caribbean American Heritage Month. Enjoy Charleston Carifest June 20 - 23, with five events over 4 days.
DAY ONE
Thursday - June 20, Carifest Symposium & Opening Reception.College of Charleston School of Professional Studies. 3800 Paramount Drive, North Charleston, SC 29405. 6:00pm - 9:00pm Presentation by Peter Bailey, Virgin Islands.
"Peter Bailey is an award-winning author, journalist and founder of NiteCap Media, a cutting edge multi-media company known for producing the critically-acclaimed NiteCap conversation series in which Bailey engages in introspective discussions with A-list entertainers, business leaders and other newsmakers. Educators have implemented "NiteCap Live", the interactive format of the series, at high schools throughout the United States and the Caribbean. Bailey's latest film project, "Paradise Discovered", based on his New York Times Op Ed, "Has America Forgotten the Virgin Islands", captures the stories of those throughout the Caribbean affected by hurricanes Irma and Maria which Bailey himself survived and has since become an outspoken advocate of the region's recovery efforts. His first book "Magic City: Trials of a Native Son", a memoir on the life of hip hop legend Trick Daddy with whom he co-authored the book was praised as being "one of the pop music gems of 2010" by the New York Times. Bailey also made a foray into acting, starring alongside Lynn Whitfield, John Diehl and Keith David in the civil war drama "The North Star" after an award-winning career as a staff writer for Time, Newsweek and The Miami Herald."

Additional Information on Charleston Carifest.


DAY TWO -Friday - June 21, All White Fete - TBA Charleston. Salsa Reggae Soca Party.
DAY THREE- SATURDAY - JUNE 22, CARNIVAL DAY- 2 events
Experience the dazzling pagentry of colourful Caribbean Carnival costumes as the Carifest Carnival Parade meanders through the streets of Charleston to Brittle Bank Park to the scintilating sounds of Caribbean music, Soca, Reggae, and Steel Pan.
The PARADE starts at 4:00 pm from John Street to King Street to Sumter Street to Congress Street to Hagood Street to Brittle Bank Park.
CARNIVAL VILLAGE - Enjoy the festivities of the Carnival Village in Brittle Bank Park. Performing Live Soca Artist Empress J, MichaelStar, UMoja Drum & Dance, Gatorman, Blazin Posse Band. Park opens at 4:00pm Festivites start at 5:00 pm.
Vendors with succulent Caribbean food, and Arts and Crafts.

The Healthy Lifestyle Network will collect donations of size 3 soccerballs, youth shin guards, for the Shelton Project in Jamaica.
DAY FOUR
Sunday - June 23, Carifest Musical Food Truck Brunch. 134 Canon Street, Charleston, SC 29403