Description
Join pop culture humorist and author Charles Phoenix in this rare Florida performance as he sweeps us away on a fun-filled adventure to the early days of Disneyland when every visit was a day worth dressing for! We're bringing you two shows on Sat, April 28, at 11am and 2pm at Disney's Grand Floridian Resort.
With his trademark enthusiasm, quick wit, and keen eye for oddball detail, Charles pulls from his vast collection of real "found" vintage slides and tells the amazing back-stories and glories of a visit to mid-century Disneyland. Enjoy legendary long-gone attractions such as The House of the Future, Skyway, Skull Rock, Rainbow Caverns, Flying Saucers, and The Carousel of Progress, all populated with guests dressed in fabulous 50's and 60's fashions. Come experience all this and much more projected on the big screen in glorious KODACHROME color!
DETAILS: Shows runs 80 min, all seats general admission. A limited number of tickets may also be available at the door. Show is appropriate for all ages. Seating is on a first come, first served basis. Children 3 and under do not require tickets. Refunds will only be issued should the show be canceled.
Select the Breakfast ticket option for the 11am show and join Charles from 9-10:30am for a traditional breakfast buffet (plus Mickey waffles!) in the Grand Floridian Conference Center before your show.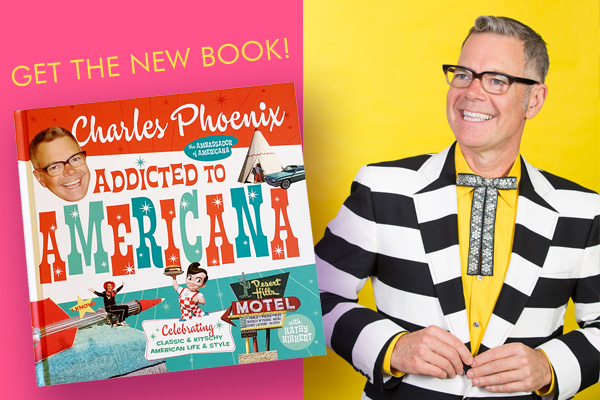 ---
DAPPER DAY BOUTIQUE
Arrive early to shop our free 1-day Boutique of new DAPPER DAY merchandise including the new DAPPER DAY, and Charles Phoenix clothing collections from Pinup Girl Clothing. Plus shop local vintage and other retailers including Retromended, Grease Rags Clothing, Rita Lane Vintage, and the African print fashions from Akanbi. Charles' new book Addicted to Americana will also be available. Boutique open to the public from 10am-4p inside the Conference Center.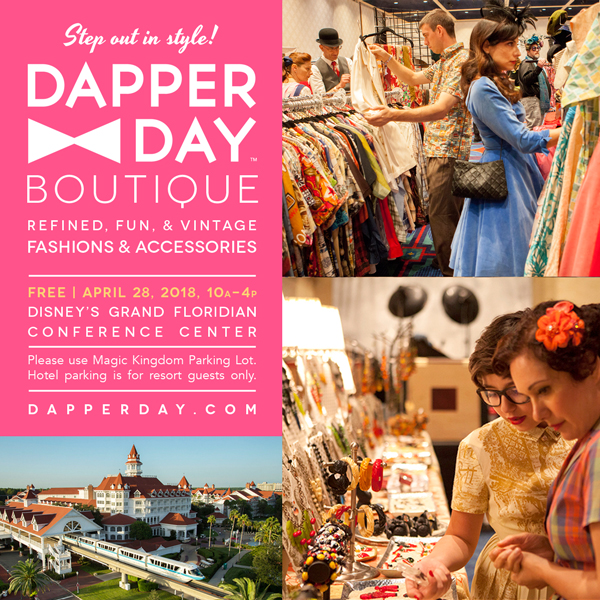 ---
PARKING / GETTING THERE
Please allow extra time for traveling around the Disney property.
Parking will NOT be available at the Grand Floridian Hotel.* Please use the Magic Kingdom Parking Lot and arrive via the Resort Monorail (not the Express Monorail) departing from the Ticket & Transportation Center. You may also park at Downtown Disney free of charge and take the Grand Floridian Bus from there. Walt Disney World Resort Parking Info
If traveling from a Disney Hotel to the Grand Floridian, you can use a ride share service including Disney's "Minnie Vans" Lyft service, or a Disney bus to Disney Springs and transfer to the Grand Floridian bus from there.
*Parking at the Grand Floridian is reserved exclusively for guests staying at the hotel, or those with Grand Floridian restaurant reservations later that day.
ABOUT CHARLES PHOENIX
"He joyfully mines America's past through its fashion and design..." – New York Times
Charles Phoenix's live shows, videos, and books, explore America's classic and kitschy pop cultural past and present, and retro-inspired future. Fans enjoy his unique spin and genuine reverence for all manner of Americana, and trust his guides to attractions from coast to coast. Charles has appeared on Martha Stewart, The Queen Latifah Show, and Cake Wars, been profiled in The Washington Post and the Los Angeles Times, and been a guest on NPR's The Splendid Table. Books by Charles include: Americana the Beautiful: Mid-Century Culture in Kodachrome, and Southern California in the '50s: Sun, Fun and Fantasy, and Addicted to Americana: Celebrating Classic & Kitschy American Life & Style.
For more visit CharlesPhoenix.com
---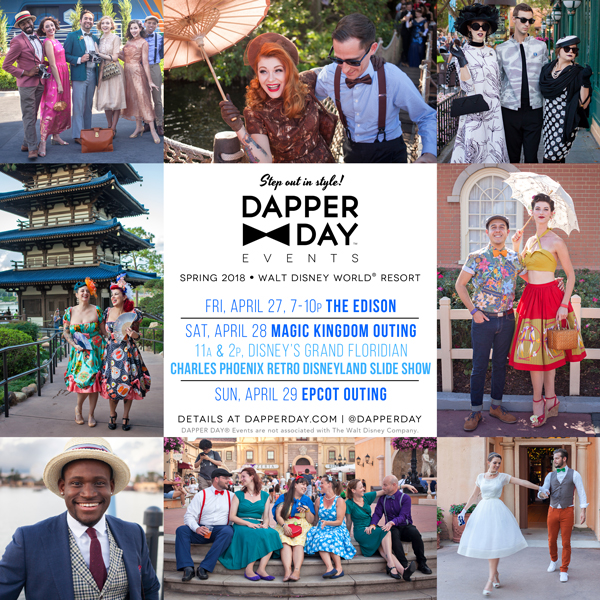 DRESS TO IMPRESS!
This event coincides with our Spring Outing to The Magic Kingdom (and our EPCOT Outing the following day). Dress up a little, or a lot! DAPPER DAY celebrates refined style from yesterday and today, so "step out in style!" All refined fashions from vintage classics to chic contemporary looks are encouraged. Active and retired service members are welcome to wear their dress uniforms if they like.
---
DAPPER DAY® Events are not associated with The Walt Disney Company. Resort photo ©Disney