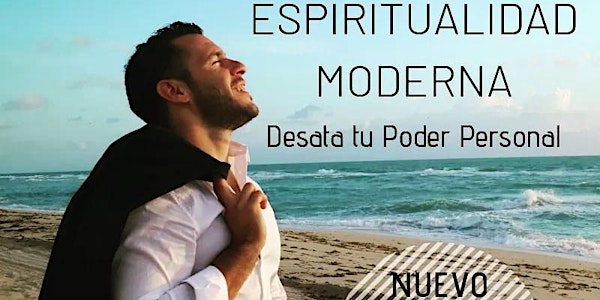 Charla introductoria "Espiritualidad Moderna"
Charla introductoria: "ESPIRITUALIDAD MODERNA: Desata tu Poder Personal". Espiritualidad + ciencia + coaching
When and where
Location
8249 NW 36th St 8249 Northwest 36th Street Doral, FL 33178
Refund Policy
Contact the organizer to request a refund.
Eventbrite's fee is nonrefundable.
About this event
En el colegio no nos enseñan cuestiones básicas como calmar la ansiedad, sanar relaciones tóxicas o meditar; entonces llegamos a los 30, 40, 50 años sin saber gestionar nuestras emociones, lidiar con algunas crisis o liberarnos del estrés. Por eso creé los grupos de Espiritualidad Moderna. 
Muchas personas han logrado transformar positivamente sus vidas, súmate tú también y desata tu Poder Personal!
Puedes ver testimonios en: www.lucasvalfrani.com/testimonios
Nada de cosas raras ni misticismo que no sirva para aplicar en tu día a día. Herramientas simples y técnicas poderosas para llevar una mejor calidad de vida.
La metodología es %60 práctica y %40 teoría.   
La práctica son técnicas simples, auto-aplicables y naturales. 
La teoría se presenta con material multimedia para que resulte entretenido y la incorporación de conocimientos sea eficiente.
Beneficios:
Gestionar emociones.
Frenar el diálogo mental negativo
Controlar la ansiedad
Eliminar el estrés.
Mejorar relaciones
Eliminar el vacío interno.
Aumentar autoestima
Auto-control y disciplina
Conectar con la Fuente (Dios, Universo)
Tener más enfoque y concentración
Eliminar miedos, fobias y traumas
Sanar tu pasado
Conocer tu cerebro para rendir más y mejor
Día: Martes 24 Septiembre
Hora: 7 PM
Lugar: Be to Be
Dirección: 8249 NW 36th Street, Doral, 33166
IDEAL para quienes desean dar sus primeros pasos en el terreno de la Espiritualidad.
Más info:
E-mail: info@lucasvalfrani.com 
Tel: +1 (786) 357 6965   
www.lucasvalfrani.com/poderpersonal
Facilitador: Lucas ValFrani
- Reiki Master
- Instructor de QiGong Medicinal
- Transformational Coach   
- Técnico Universitario en Gestión y Organización de Eventos.
- Conductor y productor del programa radial "Todo es Perfecto", apadrinado por Ismael Cala.
- Speaker motivacional
- Experto en Espiritualidad Moderna y Poder Personal
- Tiene formación en técnicas de consciencia tales como: BNE (BioNeuroEmoción) - Instituto Enric Corbera-, PNL (Programación Neuro Linguística), EFT, Ho'oponopono, Angelología, Zen y Larga Vida, Kung Fu Chio, EMF Balancing Technique, entre otros. 
www.lucasvalfrani.com