Description
Join us for an exciting charity event for the whole family: Let's party with a purpose and come together to cut shoes for children in Uganda!
What's behind this idea?
We are supporting The Young Living Foundation (https://www.facebook.com/YoungLivingFoundation/?fref=ts) who is an organization that helps various good causes. Today we like to focus on one of the projects they stepped up to, which is called Sole Hope. This charity organization is focused on helping children in Uganda to get their, with jiggers infested, feet healed and giving them a pair of shoes, so they stay free of this debilitating condition. Please watch also these videos to learn more about the outstanding humanitarian effort of these two organizations.
https://youtu.be/WAfVt1KhmCE
www.solehope.org
Here is what you need to know before the event
1. Start collecting old jeans from friends or your own closet. You can even buy a cheap one—just make sure they're clean!
2.Then bring them along with a pair of scissors to Pacific Regency Hotel (https://www.facebook.com/prhskl) on December 18, from 2pm-5pm. We will have prepared all other materials needed, including the cutting patterns. One adult pair of jeans makes about 3 single shoes.
3. We will show you how you will cut the patterns, and then you start cutting.
4. At the end, every pair of shoe patterns will be send, together with a RM 45 Ringgit donation, (The RM 45 cover the cost it takes to ship the patterns, turn them into shoes, and deliver them to the children.) to Uganda, where shoe makers will be paid fair prices to complete the pair of shoes, before they are given to the children.
Not everyone will be able to donate that much, and that's okay. Please come and donate your precious time for this good cause and show your children, how we can actively contribute to the wellbeing of follow humans!
#YoungLivingFoundation
#YLFSoleHopeParty
#Zerojiggers
#SoleHope
#PacificRegencyKL
#YoungLivingMalaysia
RSVP: Please contact 012-6966830 or 012-2060980 and let us know with how many friends and family members you would like to come. The Pacific Regency hotel is offering generously the space to hold this event for FREE! (Thank you Thank you Thank you) But we need to know how many tables, material etc to prepare. So please help us making this a great event and RSVP latest by 15th of December. Thank you
Update:
We were able to secure some wonderful Lucky Draw Prices for you!!!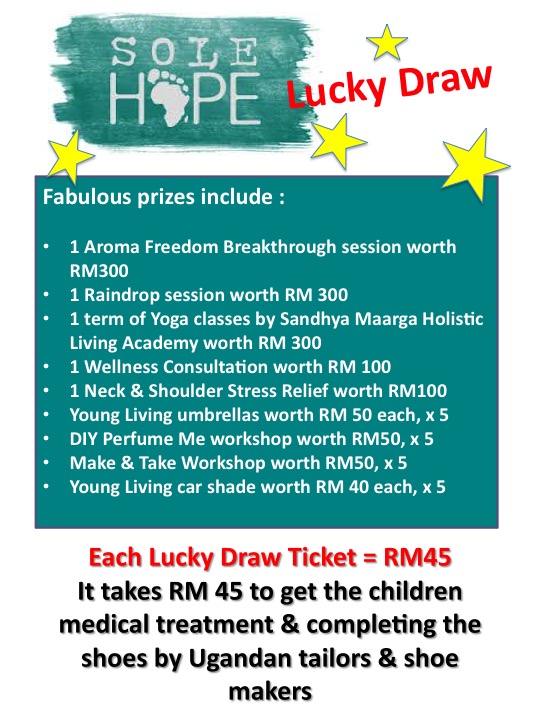 Date and Time
Location
Pacific Regency Hotel Suites
opposite KL Tower
Kuala Lumpur, Federal Territory of Kuala Lumpur 50250
Malaysia