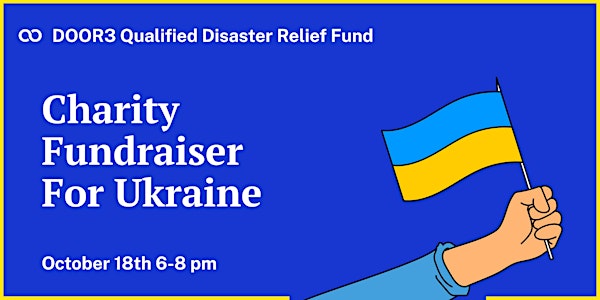 Charity Fundraiser for Ukraine
Please join us in support of the DOOR3 Relief Fund benefiting our colleagues who have been harmed by the war in Ukraine.
When and where
Location
Great Jones Distilling Co. & The Grid Restaurant 686 Broadway New York, NY 10012
About this event
DOOR3 is hosting a fundraiser to help our colleagues harmed by the war in Ukraine.
Proceeds will benefit The DOOR3 Relief Fund – a 501c3 charity – which directly helps our colleagues and their families in Ukraine who have suffered hardship as a result of the war.
If you cannot attend, please consider making a donation. Your support makes a difference!
"This money replaced my grandpa's shattered windows, sheltered and fed my sister, gave my best friend an opportunity to provide for his family and saved dozens of our military's lives. Thank you very much." - Nik
"I'm endlessly thankful to the D3RF for their support to the PEOPLE of Ukraine. Yes, it is important to support the country of Ukraine in this situation, but it is just as important to help the citizens caught in the literal battlefield. The D3RF is doing just that." - Yaroslav
"When I left Ukraine, I was confused and I was at a loss as to what to do next. The DOOR3 Relief Fund provided additional funds to help support me and my family. It was so helpful when looking for an apartment in Poland and buying groceries. I will never forget this support. I'm so grateful." - Svitlana