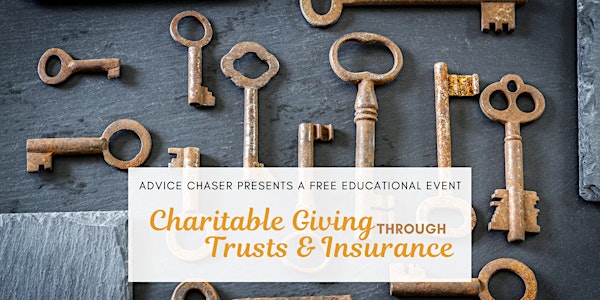 Charitable Giving Through Trusts and Insurance
Want to leave your money to charity, but also provide for your own retirement and your kids?
About this event
On October 5, Advice Chaser will host a webinar titled, "Charitable Giving Through Trusts and Insurance." As Americans grow older, many of us start thinking about the impact we would like to leave on the world. At the same time, we have our own livelihood during retirement to think of. Luckily, it is often possible to take care of both goals at the same time. This webinar will address charitable remainder trusts, irrevocable life insurance trusts, and real-life examples of how these trusts provided for both family and charitable goals. Kathy Saigeon, president of the Christian Foundation of America, and Ransom Adams, wealth manager, will present. Anyone looking to make an impact and provide for their families will benefit from this informative event.