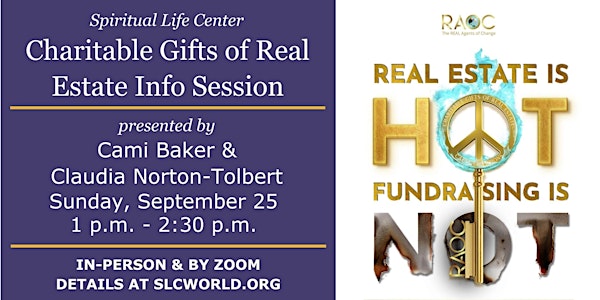 Charitable Gifts of Real Estate In-Person and Online Information Session
SLC invites our family, friends, and community non-profit partners to attend this information session on Charitable Gifts of Real Estate.
When and where
Location
Spiritual Life Center 2201 Park Towne Circle Sacramento, CA 95825
About this event
Join Zoom Meeting Now:
Don't Miss This Opportunity to Explore Charitable Gifts of Real Estate - A possible Win-Win Solution for You and Your Favorite Non-Profits ... Including SLC!
Hi this is Claudia-Norton Tolbert, a Real Agent of Change (RAOC) realtor and Spiritual Life Center (SLC) Board Trustee. Let me tell you a story...
The Berkley Humane society received a $400,000 donation from land, after letting their donors know they could receive Real Estate donations. They didn't even know the donor. Then they reached out to their donors again and received a second property that was worth over $600k. So within six months they brought in over $1,000,000 in liquid assets, just by letting their donors know that real estate donations are an option, and there's no risk to the donor or to the recipient Nonprofit.
I would love for our SLC Family and Friends to know how this can work for Spiritual Life Center too. It doesn't matter where the real estate is in the nation or if it's residential or commercial property. Charitable gifts of real estate could help fund SLC's Mission to Transform Lives.
SLC also wants to be sure that our non-profit Community Partners that we support financially know that charitable gifts of real estate can help fund their missions as well.
All are welcome to attend SLC's Charitable Gifts of Real Estate Information Session on Sunday, September 25th either in-person at Spiritual Life Center at 2201 Park Towne Circle, Sacramento, CA 95825 or on Zoom from 1 to 2:30 pm Pacific Time.
Please come to this informative and exciting presentation where Cami Baker and I will provide all the details about charitable gifts of real estate as well as answer your questions. Pre-register today!
If you intend to participate by Zoom, please complete your Eventbrite registration and also pre-register with Zoom here.
Cami and I look forward to seeing you on Sunday, September 25th either in-person or on Zoom.
- Claudia Norton-Tolbert, SLC Board Trustee & Cami Baker, The REAL Agents of Change (RAOC)