Charismatic Machines & Robot Comedy
When and where
Location
Austin Convention Center - Next Stage EH 3/4 500 East Cesar Chavez Street Austin, TX 78701
Description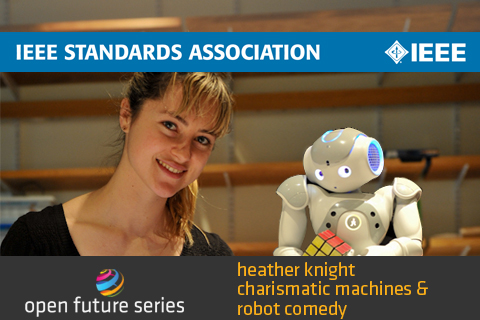 While it seems we've reached capacity in Eventbrite, this event allows admission on a first-come, first serve basis.
This event is part of the IEEE & W3C Open Future Series at SXSW and is open to all Registered Badge Holders
Add this to your official SXSW schedule here!
Meet Heather Knight, Electrical Engineer and Roboticist, and her robot, Data. Heather designs unique interfaces between people and machines that incorporate body language, personality, humor, temperament and spectacular stylings. Leveraging her research, Heather will explore the ways psychology, expressive emotion, behavior system design and art influence the positive evolution of charismatic technology.
In an age where highly capable machines enter our daily lives, social robotics focuses on how machines can empower people – not replace them. Machines fail to interact appropriately with people run the risk of becoming irritating and unwelcome. However, when personality and charm are added, functional machines can not only empower people – they can engage, inspire, elicit trust and foster bonds with their human partners.
Biography
Heather Knight is currently conducting her doctoral research at Carnegie Mellon's Robotics Institute and running Marilyn Monrobot Labs, producer of the Cyborg Cabaret, Data the Robot's standup comedy circuit and NYC's annual Robot Film Festival.
Her previous projects include: robotics and instrumentation at NASA's Jet Propulsion Laboratory, interactive installations with Syyn Labs including the award-winning 'This too shall pass' music video with OK GO, field applications and sensor design at Aldebaran Robotics, and she is an alumnus from the Personal Robots Group at the MIT Media Lab. She earned her bachelor and masters degrees at MIT in Electrical Engineering and Computer Science and has a minor in Mechanical Engineering.
Her installations have been featured at the Smithsonian-Cooper Hewitt Design Museum, LACMA, SIGGRAPH, PopTech and the Fortezza da Basso in Florence, Italy.
Hashtag:
#loveyourbot