Charging Ahead: PG&E CEO Tony Earley
When and where
Location
The Commonwealth Club 555 Post Street San Francisco, CA 94102
Description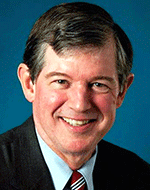 Tony Earley, Chairman & CEO, PG&E Corporation
California creates more wealth per puff of carbon pollution than anywhere else on the planet, and its largest electric utility, PG&E, has become one of the cleanest power providers in the country. Now the state has laid out ambitious new goals for generating an even greener and smarter economy. That means higher standards for renewable energy, mandates for new ways of storing electricity, a concerted push toward electric vehicles and new approaches to pricing the power that runs our connected lives.
The transition will mean big changes for two industries with a historic reliance on fossil fuels: investor-owned power utilities and traditional automakers. What role will these century-old pillars of commerce play in the new energy ecosystem? With a host of start-ups and big names in high-tech challenging old business models and vying for pieces of the clean energy market, can they prove innovative enough to adapt and succeed in a carbon-free future?
Join us for a conversation about powering the California of tomorrow.
Location: 555 Post Street, San Francisco
Time: 6 p.m. check in, 6:30 p.m. program, 7:30 p.m. networking reception
All ticket sales are final and nonrefundable.