Event Information
Location
MetLife Stadium
1 MetLife Stadium Drive
(Lot L4, Bus Parking)
East Rutherford, NJ 07073
Description
We Are Throwing A Huge CHARGERS FANS ONLY Tailgate Party! The perfect, all-inclusive, no worries tailgate setup. We'll take care of everything so you can focus on having fun!

The CHARGERS NYC TAILGATE TAKEOVER vs. Giants, Sunday, 1pm on 10/8/17. The more BOLTS Fans the better!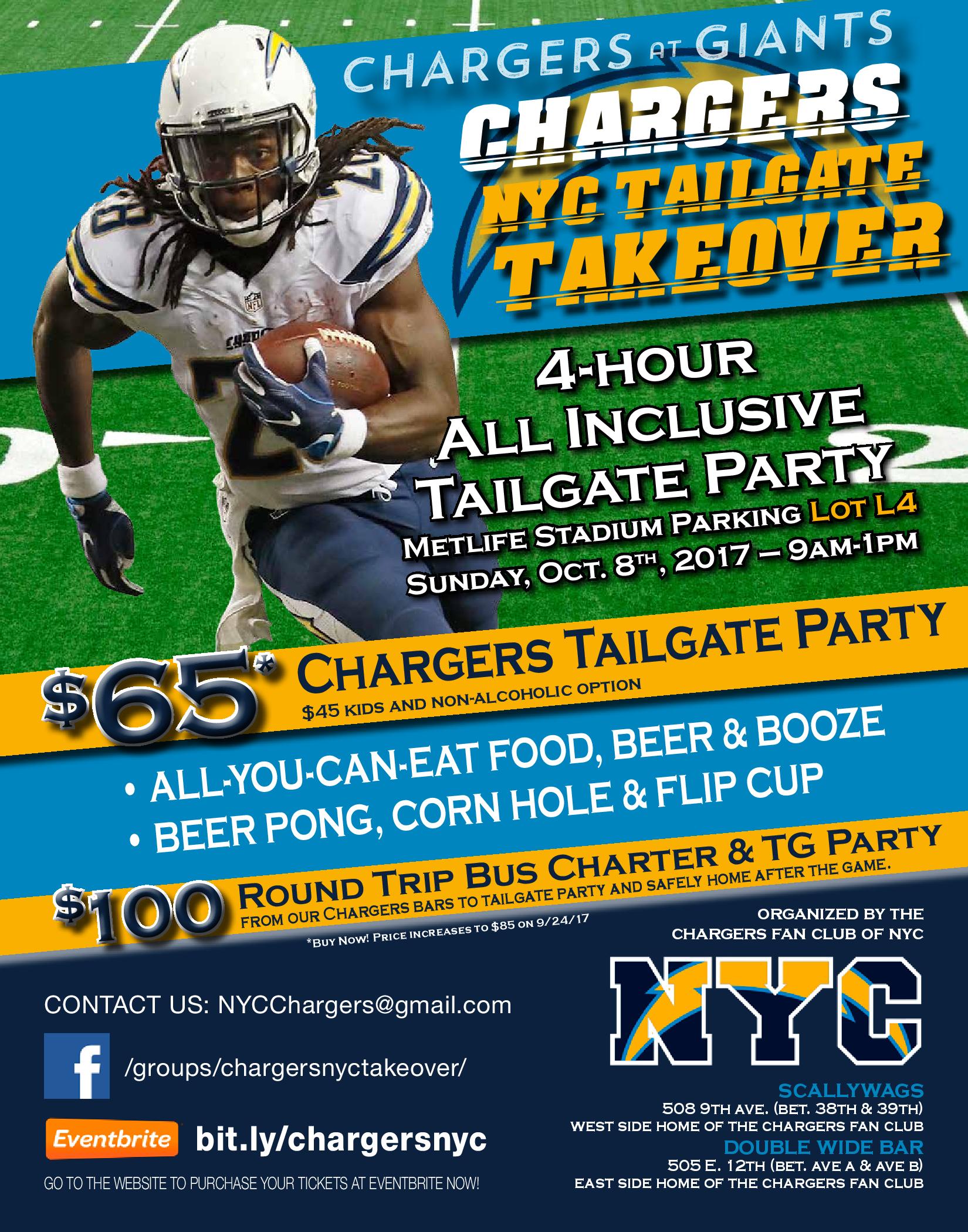 THE GOAL IS TO GET 100+ CHARGERS DIE HARD FANS To Take Over the Tailgate Parking Lot and Stadium!
TAILGATE PARTY DETAILS: We will have a 4-Hour, All You Can Drink and Eat, Chargers Themed Party, Plus A Professional Tailgate Setup Including:
- CHEF and BARTENDER - BEER PONG - CORN HOLE - FLIP CUP
- BEER KEG TAP SYSTEM - TENTS - GRILLS - ICE - etc.

TAILGATE PARTY (ALL YOU CAN DRINK and EAT) - $65
TAILGATE PARTY (Kids and Non-Alcoholic Option) - $45

CHARGERS CHARTER BUS Plus TAILGATE PARTY - $100
The Chargers Bus will leave the Chargers bars at 8am and go directly to the Chargers Tailgate Party. After a W, it will deliver you safely back to NYC after the game.

Last time the Chargers came to NYC we had over 500 Die-Hard Chargers Fans! We kicked ass, and made the news back home. We continue to get bigger and better every year and This Tailgate Will Be Epic! Everything will be taken care of for you so you can relax and party! There will be Kegs, Beer Pong, Corn Hole, Tents, Sodas, Water, Burgers, Brats, Vegetarian Options etc.
We will be setting up in the bus parking area of MetLife Stadium. (Usually Lot L4, We'll text, tweet, Instagram, and facebook the details that morning when the parking lot opens)
Feel free to email me any questions.
FAQs:

Do I need to print out my Tailgate eventbrite purchase?
No. We have an electronic list, so you should be all good. It never hurts to have a backup for all those who buy last minute though.
Where is the CHARGERS TAILGATE PARTY?
We should be in the Charter Bus PARKING LOT L4, but we won't know exactly until they open the parking lot. We will then post the location on Eventbrite, and Facebook. You will see all our CHARGERS Flags on 25' Flag Poles!
Does the Tailgate Ticket price include a Game Ticket?
No. You have to buy your game ticket separately. Unfortunately, the Giants don't have group tickets so you have to buy a game ticket somewhere else.

Can I just come to the CHARGERS Tailgate Party?

Absolutely! The more Chargers fans the better.
Can I show up at the Tailgate party and buy a Tailgate Ticket there?
Yes, but the price goes up to $85 after 9/24/17, so buy now to save.

My friends are not CHARGERS Fans can I bring them?
As long as they know that they are at a CHARGERS Party and aren't jerks, we're open to all fun, party people.
Do you have anything for vegetarians?
Yes, we have a plenty of options including veggie burgers, veggie dips, penne pasta, etc.
Are there refunds if I can't make it to the Tailgate?
We have to plan the food and drink in advance for the people committed so we don't do refunds within two weeks of the event.

Are there refunds for the Charter Bus?
Yes, if the bus doesn't have enough people, we will let you know a few days before the event, and we will refund you the bus portion. You can then take public transportation to the tailgate.
Are you hosting another Chargers Tailgate Party on Dec. 24th vs. the Jets?
If there is enough interest, yes we will do a Chargers Christmas.

Date and Time
Location
MetLife Stadium
1 MetLife Stadium Drive
(Lot L4, Bus Parking)
East Rutherford, NJ 07073
Refund Policy