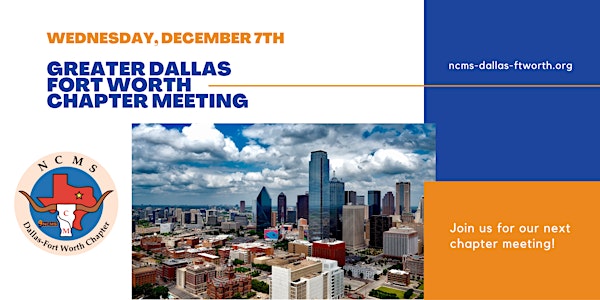 Chapter Meeting
Announcing our final chapter meeting of the year!
About this event
We are pleased to offer you an online Chapter Meeting!
Agenda:
10:00 AM- 10:05 AM (CST) - Opening Remarks
10:05 AM- 10:20 AM (CST)- Chapter Business
10:25 AM- 11:30 AM (CST) -NBIS Updates
During Chapter Business, Greater Dallas Fort-Worth members receive updates on this year's chapter elections, a glimpse at what to expect next year for chapter functions, and updates to the 59th NCMS Seminar.
Speaker: Jenn Kirby from Deloitte, a member of the industry NBIS Working group, to provide us with NBIS System Updates.
Please, join us for this educational opportunity!
After you register, you'll receive more details.
• If attending virtually, you'll receive an NCMS WebEx meeting invite