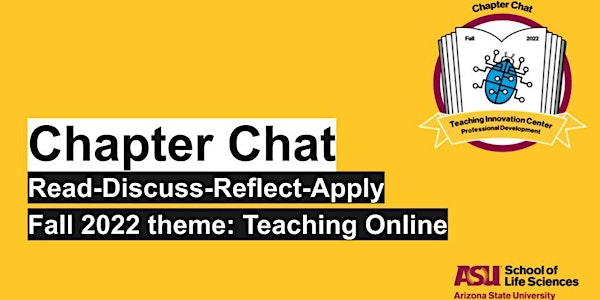 Chapter Chat with TIC
Explore current literature with TIC. This session focuses on the application of learning science for building community in online classes.
About this event
Welcome to the Chapter Chat professional development session that is facilitated by the Teaching Innovation Center (TIC)! Join us as we dive into current literature on innovative and best teaching practices. Earn digital badges for actively engaging in the sessions.
This session explores aspects of providing effective and efficient feedback in online classes.
Getting started
Read chapter 5, Giving Feedback, from the book Small Teaching Online: Applying Learning Science in Online Classes
Note: You are encouraged to read the materials prior to the session but everyone is welcome to attend and engage in guided discussions.
How to join
Synchronously via Zoom
Engage asynchronously in Canvas discussion boards [access discussions on TIC professional learning community site]
Session details
Tuesday October 18, 3:30 pm - 4:15 pm via Zoom (link available on event page after registering)