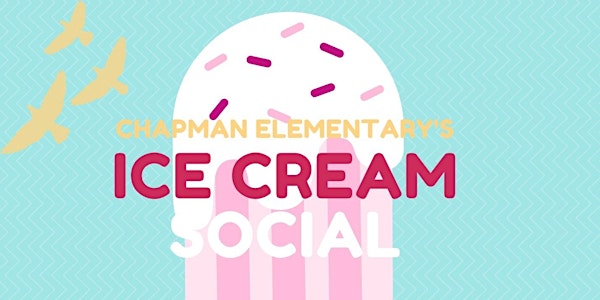 CHAPMAN ELEMENTARY VIRTUAL ICE CREAM SOCIAL 2020
Chapman's annual ice-cream social goes virtual for 2020! Meet your classmates, connect to fellow parents, and help to build our community!
About this event
NOTE: PLEASE "BUY" JUST ONE TICKET PER FAMILY WHEN REGISTERING
What is the ice-cream social? What is the deadline to register?
The annual ice-cream social is a FREE, PTA-sponsored event for families, parents, and staff to meet at the beginning of the year. In years past, the social was a place to pick up first day paperwork packets, learn about after school programs, catch up with friends, and meet classroom teachers. 
This year's ice-cream social won't be in person, but we hope it still offers a way for our families to connect and build community.
We are hoping to offer breakout sessions for families/students by grade/classroom. In order to do this, the organizer needs as much advance notice as possible, so please make sure that you are registered by FRIDAY, AUGUST 28 AT NOON.
How do we attend?
You will receive an email with a Zoom link prior to the event on Sunday.  Teachers/staff are also invited and encouraged to join, but are not required to attend. Parents and students should participate together.
What do we need to participate?
1. An internet connected device. It may also be helpful to download the Zoom app prior to the event if you don't already have it. https://zoom.us/download
2. Ice Cream (or another treat of your choice). We are asking families to "bring their own" ice cream this year, but we'll also be raffling off Salt & Straw gift cards for 2 lucky families per grade. You must be present to win!
How can I help?
We need a number of volunteers who are comfortable using Zoom to serve as virtual hosts for the event. You'll be tasked with kicking off the conversation and signaling the main host if there are any issues. Please volunteer to host a group! 
We are a kindergarten family. Does that mean I won't be in a classroom breakout?
Kindergarten students are not yet assigned to a teacher, but we'll group you together in the breakout.
What if I have more than one child at Chapman?
Register ASAP, so we can plan appropriately for multiple-child families! Organizers will reach out to you with additional information. YOU WILL ONLY NEED ONE TICKET PER FAMILY.
Will my teacher be there? What is the agenda for the meeting?
Teachers have traditionally been at the ice-cream socials held on a weekday afternoon. Because this event is scheduled on a weekend and is parent-organized, it's not mandatory for teachers to attend, but we hope they will "pop by" if they are able. We'll send an agenda with the Zoom link towards the end of the week.
What if I have other questions, concerns or need special accommodations to participate? Please contact Helen Shum at helenshum@gmail.com or post it on the Friends of Chapman Facebook page.