Description
The Chapman University Dale E. Fowler School of Law is pleased to present Garry W. Jenkins as a special guest speaker in the 2014-2015 Chapman Dialogue Series.
Next-Gen Giving: How New Philanthropy Helps and Hurts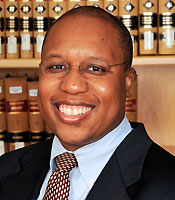 Garry Jenkins is associate dean for academic affairs and the John C. Elam/Vorys Sater Professor of Law at The Ohio State University Moritz College of Law, where he specializes in law and philanthropy, corporate social responsibility, corporate governance, and civil rights in education. At Moritz, he is also the co-director of the Program on Law and Leadership, a multifaceted education and development initiative to advance the theory and practice of leadership among lawyers.
His recent work has been published in a variety of journals, including the Georgia Law Review, North Carolina Law Review, and Southern California Law Review. In 2008, he received the Outstanding Young Nonprofit Lawyer Award from the American Bar Association for his scholarly contributions. Professor Jenkins regularly teaches Business Associations, Nonprofit Organizations, and Lawyers as Leaders.
Prior to joining the Ohio State faculty in 2004, Professor Jenkins was chief operating officer and general counsel of The Goldman Sachs Foundation, a $200 million-plus international corporate foundation. Before joining Goldman, Sachs & Co., he was an attorney with the New York law firm of Simpson Thacher & Bartlett, where he counseled public charities and private foundations; formed and advised private investment funds; and negotiated mergers and acquisitions.
Professor Jenkins clerked for Judge Timothy K. Lewis of the United States Court of Appeals for the Third Circuit from 1998 to 1999. He earned a B.A. from Haverford College, a master's degree in public policy from the Harvard Kennedy School, and a J.D. from Harvard Law School, where he served as editor-in-chief of the Harvard Civil Rights-Civil Liberties Law Review.
Professor Jenkins serves on the governing boards of Haverford College and the American Civil Liberties Union (ACLU) of Ohio.
Tickets are limited. Register Now! Doors open at 11:30 a.m.

Disability Services will be provided upon request. If you require specific accommodations for this event, your request must be submitted no later than 7 business days prior to the event (Thursday, March 26). Please submit requests or questions to: Ashley Kemp at akemp@chapman.edu or 714-628-2653