Description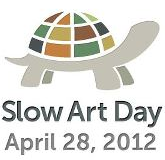 Ackland Art Museum
Art viewing: 11:00 AM - 12:30 PM
Lunch: 12:30 PM - 1:30 PM, Spanky's Restaurant
Host: Amanda Hughes, Director of External Affairs, Ackland Art Museum
Slow down! (We look too fast...)
Slow Art Day is a worldwide celebration of art that encourages people to look at art SLOWLY – and thereby experience art in a new way. The premise is simple: when we slow down to look at art, we really see it.
Please join Amanda Hughes this Saturday, April 28, for a "slow look" at pre-selected works of art at the Ackland Art Museum. After viewing the works for 10 minutes each, we'll stroll over to Spanky's restaurant and enjoy conversation about the experience over lunch.
You'll not only benefit from the viewing experience, but be empowered by being a part of the collective experience. We look forward to seeing you -- and seeing with you!
See more about Slow Art Day and the mission behind it:
http://SlowArtDay.com | facebook | twitter | tumblr
Organizer of Chapel Hill Slow Art Day - Ackland Art Museum - April 28, 2012
The Fresno Art Museum is located in the heart of Fresno, near the intersection of Clinton and First Streets, next to Radio Park. 
Exhibitions include contemporary and modern art and photography and ethnographic and cultural exhibitions which reflect and celebrate the diverse population of the San Joaquin Valley. The Museum is also home to very large and impressive collection of Pre-Columbian artworks from Mexico and what is now modern-day Peru. It is the only museum in Fresno accredited by the Americian Alliance of Museums.
In addition to thought-provoking and exciting exhibitions, the Fresno Art Museum provides the region's 1.6 million residents with a forum for contemporary and modern issues as they relate to art and culture, films, concerts, lectures, docent tours, and symposia to enlighten, educate, and entertain its visitors.
Over 14,000 people from across the Valley and around the world visit the Museum each year.