Host Publications is excited to announce our new virtual, monthly chapbook club, beginning w/ Spells for Black Wizards by Candace Williams!
About this event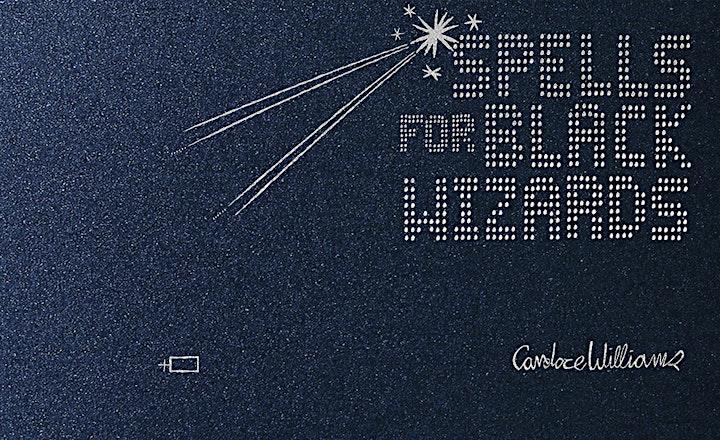 About Spells for Black Wizards: The poems in Candace Williams' Spells for Black Wizards do not hold back. Candace's mind does not hold back. Neither should the medium through which she speaks. We first published this chapbook as a poetry map spread, with an index of spells. It sold out before the end of the first week of preorders. Now, over a year later, we would like to offer a second edition of Williams's dazzling chapbook, this time as a traditional perfect-bound chapbook. This chapbook pushes form to the brink. To be a true master of form, one must learn and master the form—and then they must rupture it, obliterate it of its former occupancy. In this book of sestinas, sonnets, blank verse, and free verse, words ricochet off such formal and systemic ruptures. Here is a true book of spells for the contemporary reader.
Where to buy, $10: The Atlas Review Online Store
Praise: What strikes me most about Spells For Black Wizardsis the way Candace Williams chooses to honor the living—not just the people, but the space and the way she lives in it. "I turn off all the lights / and I'm still black" manages to give both a familiar warmth, and a familiar chill. I not only find myself alive in this book, but also I find the people who might be my people doing more than just becoming ghosts. The landscape that might be my landscape, complex in its joys and violences. There is a comfort in seeing yourself or your mother or your lovers or your past or your future echoed back to you, no matter how many times it is done. In Spells For Black Wizards, Candace Williams does it well, in new and exciting ways. I read this book, and I find a place to rest comfortably. Not safe from the world outside, but at home with my people nonetheless. —Hanif Willis-Abdurraqib, author of Go Ahead in the Rain, They Can't Kill Us Until They Kill Us and The Crown Ain't Worth Much
The right spell demands precision. The poems in Spells for Black Wizards are precisely that: a bond between poetry and the mathematical; an alchemical alliance that names memory as a tuning signal in a country laced with the past. The city as a site for the interrogation of values, memos to damaging relationships, citation and altar: "I cannot bear witness for ancestors whose griot were massacred and ink deemed criminal. I dwell upon their broken vertebrae and mouth a gentle tribute." —Nikki Wallschlaeger, author of Crawlspace and Houses
This is a tough, tender, honest little book, whose poems wend bravely through Brooklyn. Spells for Black Wizards is timely: Williams knows how to wield intellect as a poetic weapon, critiquing property, ownership, and the oppressive and racist economies of a past where "your ancestors were tallied" and a present where "expression is taxed" and "your skin's degree of pigment taxes the nerves." In a moment where poetry is again moving to the forefront of resistance, poems like Williams' "Black Sonnet" are crucial, not just because they beautifully represent what poetry can achieve now, but because they lay claim to what the best poetry has achieved all along. "Nostrand Avenue Dirge" reminds us of the difference between witness and tribute, as the poet offers "gentle tribute" rather than witness to "ancestors whose griot were massacred." Timeliness aside, Williams has a rare gift for language and for the economy and the agility of the poetic line, as well as a wonderful sense of tempo. These poems sing and move with anger, and lyricism, and joy, and they have me convinced that poets and wizards have a great deal in common. Read them on the 2 and the 5 trains, or read them to the beat of your own walking and breathing. Read them with a flashlight or by a fire, and by all means, work these spells. —Miller Oberman, author of The Unstill Ones
About your Hosts
Annar Veröld (she/her) is a Honduran-American filmmaker living in Austin, Texas. She serves as Managing Editor at Host Publications.
Claire Bowman is the author of a chapbook titled Dear Creatures (Sutra Press, 2017). She holds an MFA from the Michener Center for Writers, and her work can be found in Black Warrior Review, Narrative Magazine, and The Volta, among other places. Claire works as the Senior Editor at Host Publications, where she also co-hosts and produces a literary podcast called The Host Dispatch. She moonlights as a tarot reader and teacher with Typewriter Tarot in Austin.