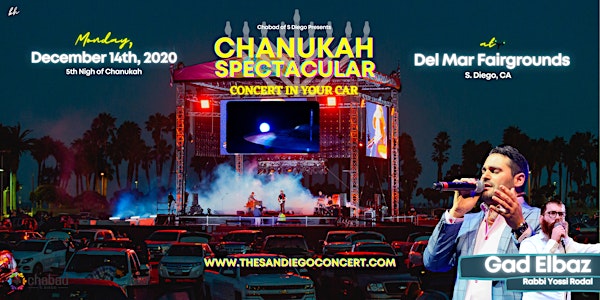 CHANUKAH SPECTACULAR featuring Israeli Pop Star Gad Elbaz
CHANUKAH SPECTACULAR 2020 FEATURING ISRAELI POP STAR SINGER GAD ELBAZ DRIVE IN CONCERT LIVE FROM YOUR CAR
When and where
Location
Del Mar Fairgrounds 2260 Jimmy Durante Blvd Del Mar, CA 92014
About this event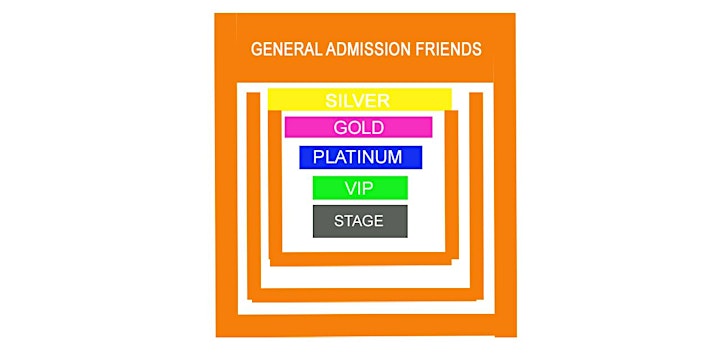 Chabad of S. Diego presents, a socially-distant evening of pure unity and joy:
CHANUKAH SPECTACULAR 2020
FEATURING ISRAELI POP STAR SINGER GAD ELBAZ
DRIVE IN CONCERT LIVE FROM YOUR CAR
Chabad continues to go above and beyond their calling to bring much joy and uplift the spirits of our great community.
Join us as we celebrate the FESTIVAL OF LIGHTS in glorious fashion at the well-known DEL MAR FAIRGROUNDS located on S. Diego's beautiful coast. This Chanukah event will bring together thousands of community members to enjoy a special DRIVE-IN program, viewed from inside or on top of your very own vehicle. Bring the entire family and tell your friends about it too - get your tickets while they are still available!
Headline performer: Israeli pop star, GAD ELBAZ
Event program includes Grand Menorah Lighting, individually packaged Chanukah gifts and treats for all attendees, headline musical performers and much more!
Gates open at 3:00 pm
All vehicles are subject to search.
All tickets are first come, first parked, in the section your purchased.
If your vehicle is over 6.5 feet tall, you will be parked in the 4th row or further to avoid blocking other vehicles.
Tickets are ONLY available online and in advance.
Your ticket is only valid for the DAY & TIME on the top of the ticket. Non transferable to another show.
No RVs, buses or Limos allowed.
Each ticket is valid for ONE car. The number of passengers must not exceed the number of safety belts /seats in your vehicle.
No in and out privileges.
Outside Food and Non alcoholic beverages permitted. No outside Alcohol allowed due to state of California Laws. Food and Beverages are available for purchase on site.
Please review ALL facts on our website prior to arrival.
If a medical condition exists that prevents a guest from wearing a face-covering, then they must remain inside their vehicle at ALL times. No exceptions.
Portable restrooms will be available onsite. We ask that only two people per car at a time leave the vehicle to use. Please wear a mask and follow social distancing guidelines
Due to social distancing guidelines LIMITED AMOUNT of portable restrooms will be available. Please be sure to wear a mask and practice social distancing guidelines. Only 2 People from a vehicle at a time.
Failure to follow safe social distancing, or requests of staff members for participants to follow, will cause the participant to be subject to ejection.
CDC and State of California guidelines will be followed, and we are working closely with County of San Diego Health Department to ensure this event meets or exceeds all recommended standards.
Event staff will be wearing personal protective equipment as required by CDC guidelines.
All sales are final and there will be no refunds.
In the event that the event is cancelled, all tickets will be refunded.
Management reserves the right to refuse service to anybody or to revoke your tickets.
RELEASE AND WAIVER OF LIABILITY AGREEMENT by entering the fairgrounds ALL ("Participant"), acknowledge and agrees to the terms below. Each Person will be participating as a volunteer or participant in the Concert In Your Car Series activities at the Del Mar Fairgrounds premises and facilities (the "Fair"): I AM AWARE OF THE COVID-19 PANDEMIC AND RELATED GOVERNMENTAL ORDERS,DIRECTIVES AND GUIDELINES (COLLECTIVELY "DIRECTIVES"), INCLUDING DIRECTIVES FOR FREQUENT HAND WASHING, SOCIAL DISTANCING AND USE OF FACE MASKS IN PUBLIC LOCATIONS. I AM AWARE THAT THESE ACTIVITIES ARE OCCURRING IN A PUBLIC LOCATION DURING THE COVID-19 PANDEMIC, AND ALSO POTENTIALLY INVOLVE LIVESTOCK OR OTHER FAIRGROUNDS ACTIVITIES, AND ARE THEREFORE HAZARDOUS ACTIVITIES. I AM AWARE THAT I COULD BE INFECTED, SERIOUSLY INJURED OR EVEN DIE DUE TO COVID-19 OR DUE TO ACTIVITIES ON THE FAIRGROUNDS INCLUDING BUT NOT LIMITED TO LIVESTOCK ACTIVITIES. I AM VOLUNTARILY PARTICIPATING IN THESE ACTIVITIES WITH KNOWLEDGE OF THE DANGER INVOLVED AND AGREE TO ASSUME ANY AND ALL RISKS OF BODILY INJURY, DEATH OR PROPERTY DAMAGE, WHETHER THOSE RISKS ARE KNOWN OR UNKNOWN. As consideration for being permitted by the Fair, the State of California ("State"), the County of San Diego (the "County"), and any lessor of the fair premises ("Lessor"), to participate in these activities and use the Fair premises and facilities, I forever release the Fair, CBF Productions (Producer Of Shows), the State, California Fair Services Authority ("CFSA"), the County, the Lessor, and any fair affiliated organization, along with their respective directors, officers, employees, volunteers, agents, contractors, and representatives (collectively"Releasees") from any and all liabilities, causes of action, lawsuits, claims, demands, or damages of any kind whatsoever that I, my assignees, heirs, distributees, guardians, next of kin, spouse and legal representatives now have, or may have in the future, for injury, death, or property damage, related to (i) my participation in these activities, (ii) the negligence or other acts of any Releasee, whether directly connected to these activities or not, and however caused, or (iii) the condition of the premises where these activities occur, whether or not I am then participating in the activities. I also agree that I, my assignees, heirs, distributees, guardians, next of kin, spouse and legal representatives will not make a claim against, sue, or attach the property of any Releasee in connection with any of the matters covered by the foregoing release. I HAVE CAREFULLY READ THIS AGREEMENT AND FULLY UNDERSTAND ITS CONTENTS. I AM AWARE THAT THIS IS A RELEASE OF LIABILITY AND A CONTRACT BETWEEN MYSELF AND THE FAIR, CBF PRODUCTIONS, THE STATE, CFSA, THE COUNTY, AND THE LESSOR.