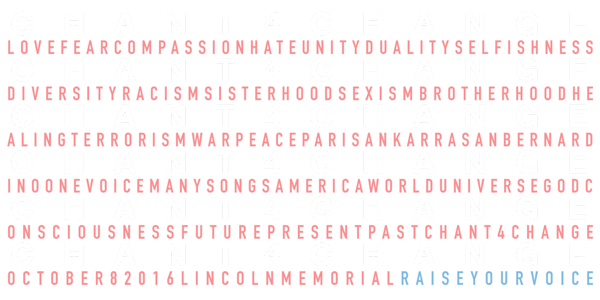 Chant4Change
When and where
Location
The Union Yoga + Strength - Hollywood Park 18130 U.S. 281 San Antonio, TX 78232
Description
Chant 4 Change is a music with message marathon taking place October 8, 30 days prior to the presidential elections. Chant 4 Change unites artists and leaders from different world views and religions for ten hours, non-stop at the steps of the Lincoln Memorial in Washington, D.C., AND, here in San Antonio, for three hours at The Union Yoga Studio at Northwoods. Musicians from Dallas and Austin will join voices and rhythms with San Antonians in a call and response participatory format.
Free, and open to the public, you can come from whatever your political inclination, or religious belief or lack of belief. It's about coming together and making a statement...spreading messages of peace and unity.
San Antonio lineup includes musicians just back from touring in Australia, also a spoken word artist, and messages and music from people representing many spectrums of our diverse nation
When you come together and chant, you are with everyone. It's serving a purpose that's much higher than just oneself.
Chant 4 Change is a grass roots volunteer-based rally cry to put a halt to racism and terrorism. #ManySongsOneVoice
https://www.facebook.com/events/1080932325295678/?ti=icl