Join Channeled, Cafe Fist Fight and covers band Limited for a fantastic night of music. All profits will be donated to MusicHelps.org.nz
About this Event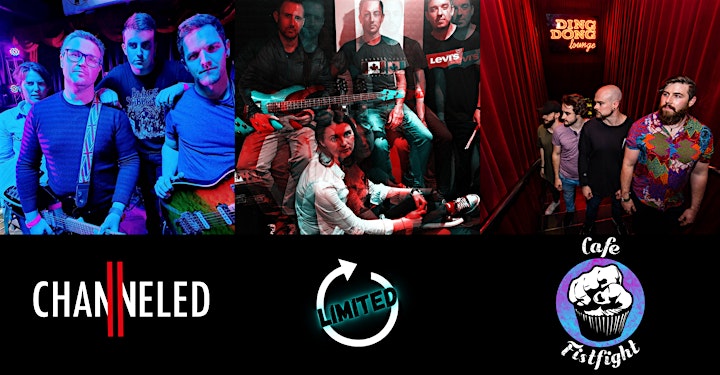 Channeled, Cafe Fist Fight and Limited are teaming up together to put on a concert where all the profits will be donated to MusicHelps.org.nz. Make sure to buy your ticket in advance and then come along and rock out with us all at Dead Witch.
Channeled
Channeled, made up of three high school music teachers and former student, have stormed onto the scene as newcomers but are proving themselves with each show. Backed up with two full albums worth of material, their live shows are what they live for. Having spent years working with students on their music and getting them up on stage and online, they are now themselves again walking the walk.
Their new album 'I Heard Penelope Sing' is due out 11th December. They are not to be missed live.
Cafe Fist Fight:
Stocking only the freshest grooves and tastiest jams, Cafe Fistfight provides the aural sustenance and strength you need to take down all who stand before you. Armed with their newest track 'Service With A Smile' the group of four lads have been leaving audiences smiling and wanting more. Driven with an acoustic edge, but not an acoustic band, Cafe Fist Fight deserve your attention.
Limited:
Limited are a covers band backed up with an arsenal of songs that will have you stomping your feet and singing your heart out. Working together to make sure you have a good time and feel the music, Limited will be playing first so everyone can get into the party mood they need to be in.
About MusicHelps
MusicHelps was originally established in 2012 under the name "The New Zealand Music Foundation". Through our Grants Programme we have invested in more than 70 projects with 42 partners from Whangarei to Invercargill, all using the power of music to change the lives of over 60,000 New Zealanders in need. We've also provided emergency assistance to hundreds of kiwi music people experiencing hardship and illness through our Backline suite of services, including a world first professional online, on-the-phone and face-to-face counselling service tailored to people who make live and recorded music possible.
What makes us different is that we're dedicated to developing and sustaining exciting projects that all have one thing in common: they change lives through music. They make a positive difference to people in need in New Zealand in extraordinary ways and show the world what is possible through the magic of music. We need your support to carry out our vital mission.
We support projects in healthcare, including music therapy in hospices and projects that use the power of music to restore physical and cognitive ability lost as a result of disease and injury. We partner with skilled clinicians who are using music as part of an integrated package of care for seriously ill children and their families.
We work with projects that use music to address the problems faced by at-risk and vulnerable people. We support initiatives that use music as the primary method of engaging youth from troubled backgrounds. Music provides the means to reach out and connect in a fundamental way with those who are facing exclusion from employment, education & training and are in danger of outcomes such as violence, drugs and alcohol abuse.
We support music-based projects that develop our communities and the people in them to achieve their full potential. These projects use music as a binding force for community and whanau groups, often in areas of great economic hardship. They provide opportunities to identify and develop leaders and teach vital life skills such as resilience, organisation and innovation.
We also serve those in the NZ music community when crisis strikes. We provide caring, confidential and practical assistance through our Benevolent Fund and our professional wellbeing and counselling service to kiwi music people from all parts of the music industry who are experiencing illness, distress and hardship.
RUN TIME:
Doors open at 8pm
Cafe Fist Fight - 9:00- 9:45pm
Channeled - 10:00pm - 10:45pm
Limited - 11pm - Finish
Event ends 11:59pm