About this Event
Even in the most desolate areas of American cities, evictions used to be rare. But today, most poor renting families are spending more than half of their income on housing, and eviction has become ordinary, especially for single mothers. Based on years of embedded fieldwork and painstakingly gathered data, this masterful book transforms our understanding of extreme poverty and economic exploitation while providing fresh ideas for solving a devastating, uniquely American problem. Its unforgettable scenes of hope and loss remind us of the centrality of home, without which nothing else is possible.
Matthew Desmond is a professor of sociology at Princeton University. After receiving his Ph.D. in 2010 from the University of Wisconsin at Madison, he joined the Harvard Society of Fellows as a Junior Fellow. The principal investigator of The Eviction Lab, Desmond's research focuses on poverty in America, city life, housing insecurity, public policy, racial inequality, and ethnography. This book and event will provide community members with information to help change the conversation and inspire solutions for the Capital Region community.
What are the expected outcomes from Changing the Conversation, Home is Where the Heart is?
Initiate an evocative, inclusive educational experience that transforms perceptions around poverty and the impact of housing on this equation
Engage policymakers around risk factors to maintain secure housing: wages, city code enforcement, legal rights, and court advocacy
Demonstrate innovative approaches to change how we address services for those living in inadequate and transitional housing
Create a more compassionate community for our neighbors
Strengthen the network of nonprofit providers that supports those at risk of eviction
Event Schedule
6:30-7:30 p.m. VIP Reception
7 p.m. Doors Open for General Tickets
7:30-8:30 p.m. Community Conversation and Q&A
8:30-9:00 p.m. Book Sales and Signing
The event is free and open to the public, however, registration is required.
Limited tickets are available for a VIP Reception. VIP ticket includes invitation to VIP reception with light fare from 6:30-7:30 pm with the opportunity to meet the author. In addition, VIP tickets receive reserved seating and support the committee's efforts to put together this event.
Please visit www.cfgcr.org/evicted for more information. On the event page, you can find links to reading guides for book clubs, schools and faith communities, status updates on regional data in the Capital Region, and organizations supporting those living in poverty.
Thank you to our sponsors!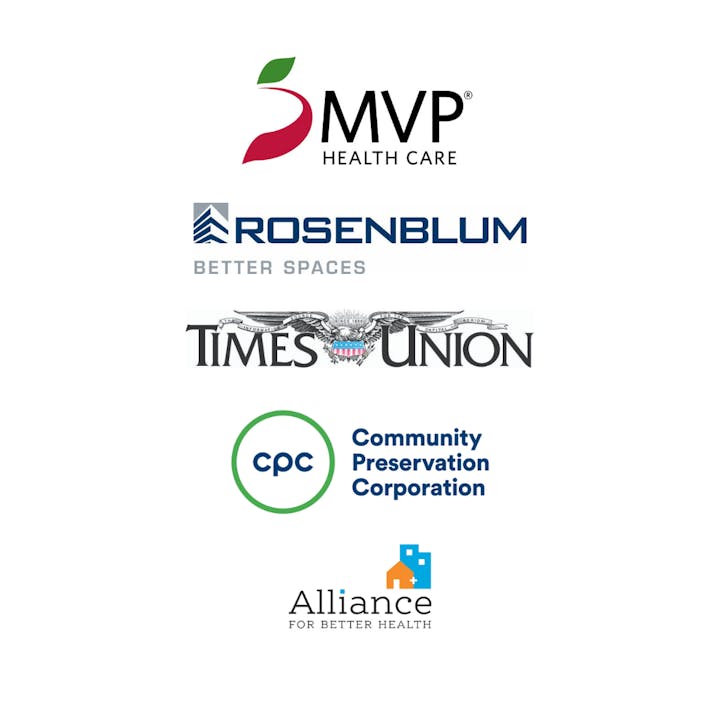 ABOUT Changing the Conversation
Changing the Conversation is a community partnership among Catholics Charities, the Community Foundation Unity House and the NYS Writers Institute. Our goals are to educate and raise awareness around relevant community issues and inspire changemakers to take action. For more information on how you can be involved and support us, call 518-446-9638.