Changing Romania, one square meter at a time

Monday, June 23, 2014 from 6:00 PM to 9:00 PM (CEST)
Event Details
Come and meet JAMES A. ROBINSON, author of bestselling book "Why nations fail" from Harvard University, Department of Government
James A. Robinson, a political scientist and an economist, is David Florence Professor of Government at Harvard University and a faculty associate at the Institute for Quantitative Social Science and the Weatherhead Center for International Affairs. He studied economics at the London School of Economics, the University of Warwick and Yale University. His main research interests are in comparative economic and political development. His book, Why Nations Fail, was chosen as one of the Washington Post's top 10 books of the year for 2012, one of the Economist and Financial Times' "Best Books of 2012', one of the Christian Science Monitor's 15 Best Books of 2012, one of Businessweek's "Best Books of 2012, According to Business Leaders". Brilliant and engagingly written, Why Nations Fail answers the question that has stumped the experts for centuries: Why are some nations rich and others poor, divided by wealth and poverty, health and sickness, food and famine?
Dr Robinson will share how countries like Botswana and Brazil have substantially broadened economic prosperity and provide a framework for looking at the progress as well as remaining challenges in Romania.   
RomaniaOne, a Foundation focused on supporting the development of a responsible civil society, is pleased to sponsor the Why Nations Fail speakers series to increase national and international on Romania's extraordinary potential. This event is the first one of a series, meant to raise awareness of civil rights and the importance of civil communities as the fuel of change in a healthy nation.
For any further information, you can contact us by email at mihai@romaniaone.org or by phone at +4 074 492 67 93.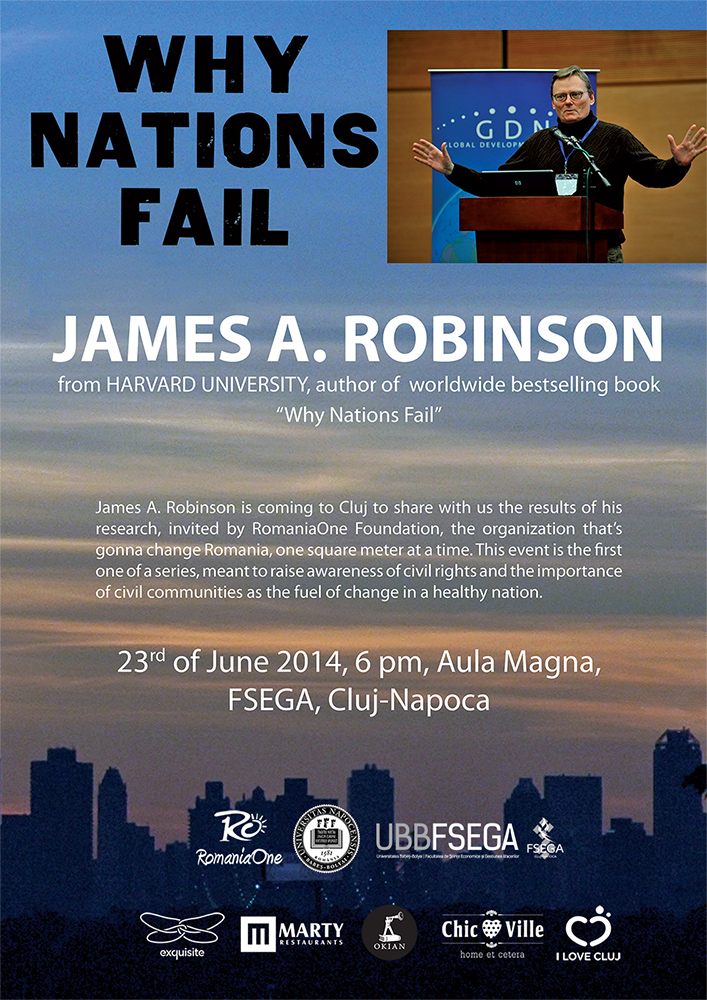 When & Where

Aula
Facultatea de Științe Economice și Gestiunea Afacerilor
Cluj-Napoca
Romania


Monday, June 23, 2014 from 6:00 PM to 9:00 PM (CEST)
Add to my calendar
Organizer
RomaniaOne Foundation aims to restore the dignity and confidence of the Romanian people in their efforts to change their present reality. 
For more information about our foundation, please follow this link: http://romaniaone.org/romaniaone/