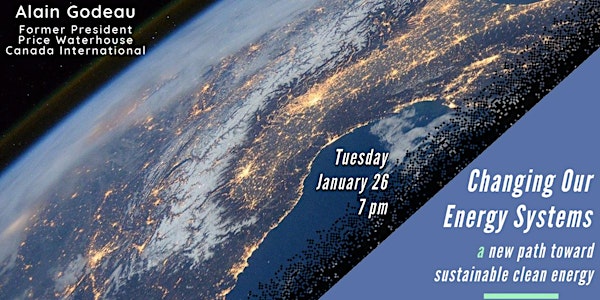 Changing Our Energy Systems: A New Path Toward Sustainable Clean Energy
A climate friendly energy system is necessary for our planet to address climate change.
About this event
Climate change is affecting everyone. And greenhouse gases must be cut to save the planet. But, the obstacles to achieving a climate-friendly energy system are huge. Alain Godeau will explain how new technologies and better practices are stymied by outdated or counterproductive assumptions that are no longer justified.
The presentation will outline the root causes of fluctuations in daily energy demand. It will show the benefits of dealing with these swings at their source. Godeau will explain the negative consequences of feeding the power grid with variable clean energy and how to address these effects. He will assess the benefits and drawbacks of a centralized versus a distributed power grid. Finally, Godeau will present his vision for a climate-friendly electric power system and the main obstacles to achieving it.
Alain Godeau was President of Price Waterhouse Canada International and president of Strategic Governance Group International until his retirement in 2008. He has over 40 years of international management consulting experience in diverse environments focusing on public-private partnership. He was the lead partner of large-scale projects in more than 30 European, Asian, African and Middle Eastern countries. These multi-million dollar projects were funded variously by the World Bank, the Asian Development Bank, the European Development Bank, the Canadian Development Bank and USAID. Mr. Godeau has French and Canadian citizenship and has been a permanent resident of the US (Grand Rapids, MI) since 2008.
George K. Heartwell, Mayor of Grand Rapids (2004-2015), will be moderating this event.
The Grand Rapids Area Advocacy Team (GRAAT) of the Climate Witness Project would like to thank our additional cosponsors of this event:
Michigan Citizens' Climate Lobby
Grand Rapids Chapter Citizens' Climate Lobby
Climate Witness Project
Sierra Club, Michigan Chapter
West Michigan Sustainable Business Forum