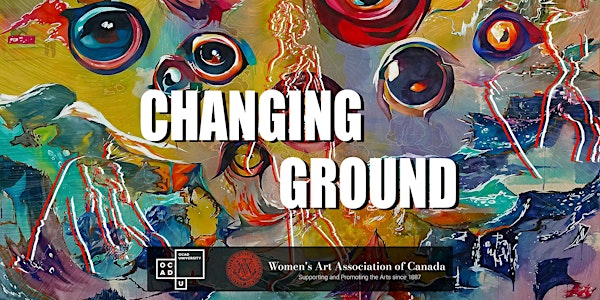 CHANGING GROUND - OCAD University Scholarship Show at the WAAC - Reception
Location
Dignam Gallery - Women's Art Association of Canada
23 Prince Arthur Avenue
Toronto, ON M5R 1B2
Canada
OCAD U Fine Art graduates Justina Yu and Sasha Shevchenko present a duo show supported by the Women's Art Association of Canada.
About this event
August 3rd to August 13th, 9 am to 4pm.
Gallery reception: August 6th, 1:30 - 4 pm
Located at the Dignam Gallery at the Women's Arts Association of Canada
23 Prince Arthur Ave.
Toronto, ON M5R 1B2
Womensartofcanada.ca
Recent OCAD U graduates Justina Yu and Sasha Shevchenko present a body of work that questions, re-positions, and narrates experiences of the mind and body in relation to the landscape. Changing ground does not always mean changing location. Sometimes, an alternative perspective can transform the land we stand on into a powerful carrier of stories that reimagine and reinterpret our humanness. By changing ground, the familiar feels alien, the real, dreamlike, and the foreign, at home. As they shift in life as recent graduates, Yu and Shevchenko invite conversations around locality, diaspora, being swept off one's feet, and finding place.
Sasha Shevchenko is a Ukrainian, Tkaronto/Toronto based interdisciplinary artist. Inspired by her experience as a Ukrainian person of diaspora, her practice bridges interests in sculpture, textile, archaeology, and intimate ethnography. By combining contemporary and ancient story-telling methods, Shevchenko creates propositional spaces where tradition has the opportunity to whimsically extend into cultural futures. Her work has been exhibited at the Art Gallery of Mississauga, Small Arms Gallery, VAM, Portland State University, along with international online exhibitions. Shevchenko holds a BFA in Sculpture and Installation from OCAD University. "Any origin starts with an act of creation - a sweeping of thread, a linking of name and body, an installation, a setting up of something. Origin is not perfect, nor is it static. We are all carriers of origin stories, even as we move - granular and fragmented. "
Justina Yu is a Toronto-based cross-disciplinary visual artist and martial artist of Chinese descent. With over 11 years of competition experience in Taekwondo, ranging from local to international level tournaments, Yu questions her lived experience and investigates complex and conflicting emotions, major events, and life narrative. Many of her pieces surround the topic of her emotional and psychological journey in relation to family ecosystems and career as an international level athlete. These works serve as a tangible translation and interpretation of the places in her mind, often in the form of fantasy, imagined landscapes, which allows her to show audiences how she connects to the world through her diverse friendships, training, as well as her experiences with synesthesia. Yu holds a BFA in Drawing and Painting from OCAD University and aims to pursue a career in Art Conservation.
For any questions please contact sashashevchenkoart@gmail.com or justina.hn.yu@gmail.com