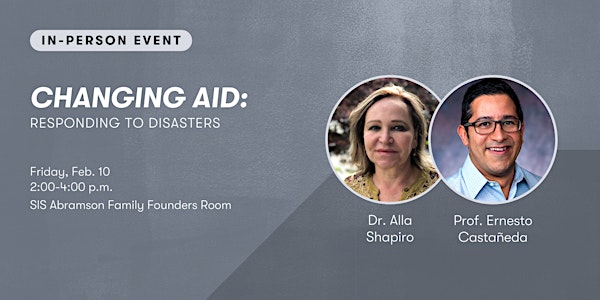 Changing Aid: Responding to Disasters
Hear from Dr. Alla Shapiro speak about her book, "Doctor on Call: Chernobyl Responder, Jewish Refugee, Radiation Expert."
By School of International Service
Date and time
Friday, February 10 · 2 - 4pm EST
Location
American University, School of International Service, Founders Room 4400 Massachusetts Avenue NW Washington, DC 20016
About this event
Join us as we welcome to American University Dr. Alla Shapiro: a physician, Soviet Jewish refugee, and most recently an author, who will share excerpts from her memoir, Doctor on Call: Chernobyl Responder, Jewish Refugee, Radiation Expert. In a true-life drama pitted against a lack of disaster preparedness and bureaucratic mismanagement, Dr. Shapiro relays her first-hand experience as a first physician-responder to the worst nuclear disaster in history: the explosion at the Chernobyl Nuclear Power Station in Ukraine on April 26, 1986. Her story is one of extraordinary resilience in the face of adversity. As a first physician-responder in a pivotal moment in global history, she was forced to engage in bureaucratic cover-ups within the Soviet government and endure personal and professional discrimination as a Jewish citizen in the USSR. Dr. Shapiro's background is in pediatric hematology and oncology and she is currently one of the world's leading experts in developing drugs against radiation exposure.
Dr. Shapiro will give remarks, and a conversation with AU professor Ernesto Castañeda will follow the lecture. There will be an audience Q&A at the end of the event.
Biographies
Alla Shapiro, M.D., Ph.D. is the author of Doctor on Call: Cher­nobyl Respon­der, Jew­ish Refugee, Radi­a­tion Expert and one of the world's leading experts in medical countermeasures against radiation exposure. As a first physician-responder following the events of the Chernobyl Nuclear Power Station explosion in 1986, Dr. Shapiro was forced to participate in the Russian coverup and spread of misinformation regarding radioactive effects. This experience, along with the discrimination she faced as a Jewish citizen of the USSR, led to her immigration to the United States. Here, she completed her pediatric residency at Georgetown University and her Clinical Fellowship in Pediatric Hematology-Oncology at the National Cancer Institute at the National Institutes of Health (NIH). Dr. Shapiro is trained as a pediatrician and oncologist and is currently working to facilitate the development and availability of medical countermeasures against radiation exposures. She worked for the FDA for 19 years as a medical officer in the Division of Oncology Drug Products and Center for Drug Evaluation and Research, and as a medical officer for the Office of Counter-Terrorism and Emergency.
Ernesto Castañeda (moderator) is a professor at American University. He is also the Director of the Center for Latin American and Latino Studies, Founding Director of the Immigration Lab, and Graduate Program Director of the MA in Sociology, Research, and Practice. He conducts research on migration, urban issues, health disparities, marginalized populations, and social movements. He compares immigrant integration and ethnic political mobilization in the US and Western Europe. He is the author of A Place to Call Home: Immigrant Exclusion and Urban Belonging in New York, Paris, and Barcelona and Building Walls: Excluding Latin People in the United States. He is also the editor of Immigration and Categorical Inequality: Migration to the City and the Birth of Race and Ethnicity and co-editor with Cathy Lisa Schneider of Collective Violence, Contentious Politics, and Social Change: A Charles Tilly Reader. He co-authored Social Movements 1768–2018 with Charles Tilly and Lesley Wood. He is affiliated with: the Center on Health, Risk, and Society; the Metropolitan Policy Center; the Transatlantic Policy Center; and the Antiracist Research and Policy Center at American University.
This event is co-sponsored by the Immigration Lab and the Changing Aid SRI.