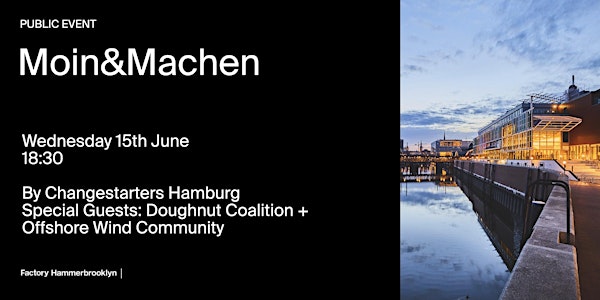 Changestarters Hamburg: Moin & Machen
"Moin & Machen" by Changestarters Hamburg mit der Doughnut Coalition Hamburg
When and where
Location
Factory Hammerbrooklyn Stadtdeich 2-4 20097 Hamburg Germany
About this event
Hoch die Doughnuts! Nein, bei "Moin & Machen" gibt's keinen Kuchen, dafür dieses Mal aber spannende Einblicke in die Doughnut Economics - ein Modell, das uns helfen kann, miteinander eine wirklich nachhaltige Stadt zu gestalten. Man nehme also: Planetare Grenzen, nachhaltige Entwicklungsziele und eine große Portion Lust auf gemeinsames Wirken und schon wird das ein spannender Abend mit vielen Anknüpfungspunkten für das Engagement eines:r jede:n von euch.
Changestarters Hamburg ist das Netzwerk für alle, die von Hamburg aus die Welt besser machen wollen. Unter dem Motto "Moin & Machen" bringen die Veranstalter:innen einmal im Monat Menschen zusammen, die Gutes tun.
Die Speakerinnen:
Caroline Bartels ist verantwortlich für das RENN-Netzwerk in Hamburg, das die SDGs vor Ort fördert, Sprecherin des Nachhaltigkeitsforums Hamburg und Unterstützerin der lokalen Doughnut Coalition.
Leonie Melcher ist Teil der Doughnut Coalition Hamburg, die sich dafür einsetzt, die Kernprinzipien der Donut-Ökonomie in die Mitte der Hamburger Gesellschaft und Politik zu tragen. Leonie ist dabei für die Koordination der internen Arbeitsgruppen und die Vernetzung und Kommunikation zu externen Ansprechpartner:innen zuständig.
Außerdem mit dabei:
Karolina Pietrzak, die uns die Offshore Wind Community vorstellen wird: "It is a group dedicated to offshore wind lovers! All from the different companies, on various positions, are connected here by similar goal - climate action driven by offshore wind. Open opinion exchange as well as cooperation creation are highly welcome!". Karolina freut sich auf Vernetzung!
Zudem freuen uns auf die Vertreter:innen verschiedener nachhaltiger und innovativer Organisationen und Communities rund um das Changestarters Hamburg Netzwerk, RENN.nord, SEND e.V. und viele mehr! Auf geht's!
"Moin & Machen" by Changestarters Hamburg mit der Doughnut Coalition Hamburg
Datum: Mittwoch, 15.6.2022
Uhrzeit: 18:30 Uhr Einlass, 19:00 Veranstaltungsbeginn
Ort: factory Hammerbrooklyn, Stadtdeich 2-4, 20097 Hamburg
Mehr erfahren:
http://www.changestarters.de
www.doughnut.hamburg
https://factoryberlin.com/de/factory-hammerbrooklyn/
https://www.renn-netzwerk.de/nord
https://www.send-ev.de/