Description
UPDATE (14 August 2018)
WE HAVE MOVED BUT THERE ARE STILL SPACES FOR THIS EVENT.
REGISTER NOW FOR CHANGEMAKERS ASSEMBLE AT: https://majulah.typeform.com/to/nVSupM
---
The continued rise in information and communication technologies through the media provides young people with boundless opportunities for accessing news and information, creating and sharing knowledge, as well as for promoting exchanges and intercultural dialogue.
However, the Internet is also being used to spread 'fake news' as well as by radical groups to promote violence and extremism in an increasingly active manner.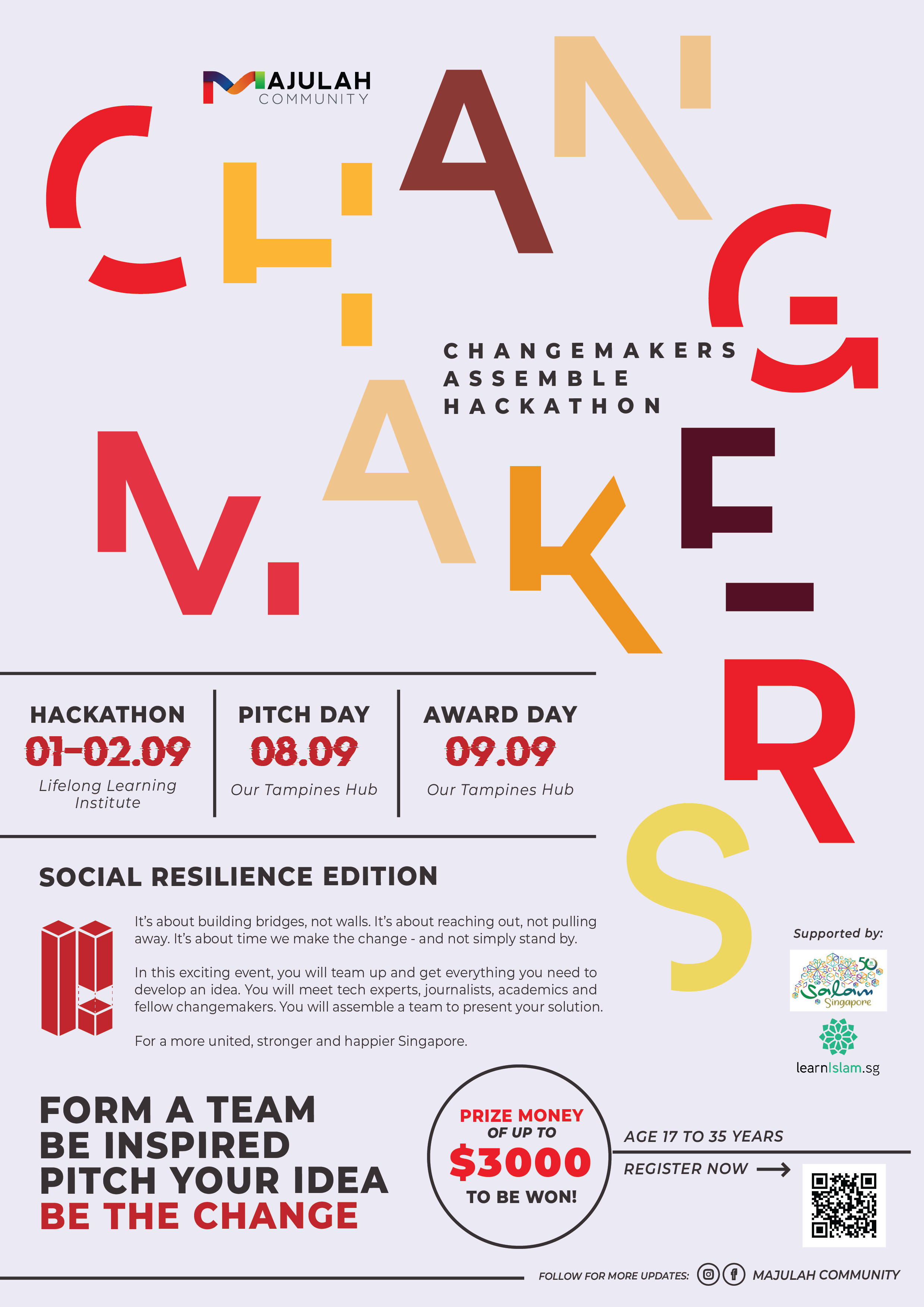 Changemakers Assemble: Social Resilience Edition will give YOU the opportunity to gain profound knowledge about the spread of fake news and increasing radicalisation by meeting experts from Facebook, Google and other inspiring changemakers.
Besides this, you'll also be able to share your opinions and come up with possible solutions for the problems mentioned above using the 5-step design thinking process. The solutions will be presented on pitch day and the three best teams will receive prize money of up to $3,000!
---
Date: 1 and 2 September 2018 (30-Hour Hackathon)
Time: 9.00am to 9.30pm (No overnight)
Venue: Lifelong Learning Institute, EH2-1 (Day 1); EH1-1 (Day 2)
Date: 8 September 2018 (Pitch Day)
Time: 9.00am to 3.00pm
Venue: Our Tampines Hub, Function Room 2, Level 4
Date: 9 September 2018 (Award Day)
Time: 3.00pm to 4.00pm
Venue: Our Tampines Hub, Main Stage
---
FAQs
If you are interested in this event, register at: https://majulah.typeform.com/to/nVSupM
If you have any questions please do contact us via e-mail: zaid@majulah.sg