Description
Do you want to be more, do more and have more? Join Stephanie Hessler, Thinking Into Results Consultant on a journey of exploration in this dynamic and interactive workshop.
This workshop draws on Napoleon Hill's, Think and Grow Rich, one of the world's best-selling success books of all times, as well as on other thinkers. In 1908, Andrew Carnegie challenged Napoleon Hill to research five hundred highly-successful individuals who had achieved their success through the aid of the "Carnegie secret." Napoleon Hill summarized his findings into thirteen principles in Think and Grow Rich, published in 1937.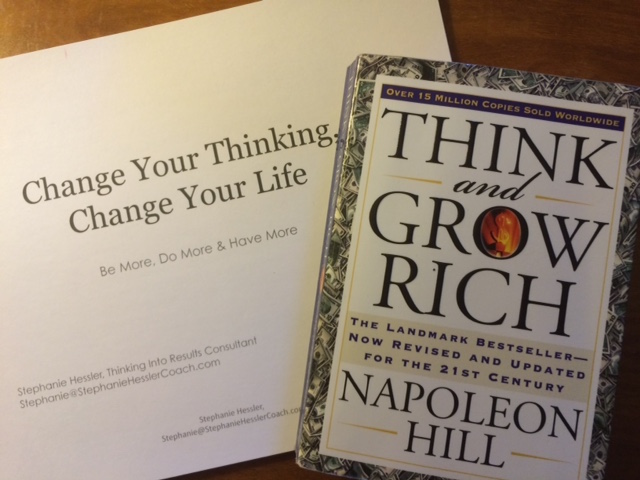 Come prepared to understand success principles and the Law of Attraction so that you can actively apply them in your life. You will learn:
• Why it's important to build awareness around your dominant thoughts and beliefs. "'Thoughts are things,' and powerful things at that," wrote Napoleon Hill. Your habitual thinking and beliefs may be holding you back.
• How to replace your current thoughts with "success consciousness." Your dominant thoughts and beliefs attract to you what and how you experience life.
• Why it's important to have clarity around what you really want. "Desire - the starting point of all achievement," wrote Napoleon Hill. It is essential to success.
• Why it's imperative to understand your mind. "Our brains become magnetized with the dominating thought we hold in our minds," wrote Napoleon Hill. Learn to use your mind in service of achieving what you want.

• How to build a daily practice that sets you up for success. Through repetition, you must convince yourself that the good that you desire is already yours even before you actually have it.

• Why the Law of Attraction responds to your paradigm - your mental programming - and how to change your paradigm.
Come prepared to change your limiting beliefs and step into your power!
"The only thing that slows us down: we are only limited by weakness of attention and poverty of imagination." -Bob Proctor