Change Your Mind, Heal Your Body

Wednesday, November 13, 2013 from 7:30 PM to 10:00 PM (PST)
Event Details
Change Your Mind, Heal Your Body
• Is it possible that your health challenge has
an emotional, mental or spiritual root
cause… and how do you clear it?
• Learn about multiple different FAST tools
that work to PERMANENTLY release old
trauma stored in the body…and see true
results!
• Begin changing your unconscious health
programming…and your health results
during this workshop.
• Most exciting of all – Professional Medical
Intuitive, Arnoux Goran, will give readings
to lucky audience members regarding their
real health challenges!
"Total Health Mastery's training saved me and my family.  I was bedridden and thought I would die.  I had seen every doctor and after 20 years of suffering and taking hundreds of medications I had given up hope.  After attending the training program now I am completely healthy, off all medications, and this training saved my marriage."   –Wendy Pappas
CLICK HERE FOR INSPIRING LIVE TESTIMONIALS
"After taking Arnoux's classes I lost 38 lbs. and I enjoy a completely healthy diet—something I never thought would be possible for me, and I recovered from a lifetime of abuse, totally and completely, something therapy, self-help and no other seminar could do for me."    -Mari Davis, Savanna, GA
"Total Health Mastery saved my life!  Not only did I finally find the answers I was desperately seeking for 17 years for my physical health, I also released the grief I was carrying for 12 years after my mom's sudden death and the hurt and anger from a terrible break up."  -Elyse Homberger
DATE and TIMES:  Wednesday, Nov 13th   
Check in:  7:00PM 
Presentation 7:30PM Start – 9:30PM End
Location: Daniel and Ginger's Home in Los Angeles - Address emailed to you upon registration
"Our family had been very sick from toxic mold.  Doctors could not help us, we lost everything, even our dogs and had to move many times.  My mom had very bad allergies and could have died from her brain swelling.  My sister had bloody noses really bad every day, doctors wanted to do surgery.  I was sick a lot.  My heart was not beating right and my immune system was shutting down.  Doctors could not tell my parents why.  My mom went to Arnoux's classes and learned the truth about health and we are much healthier now."
–Summer Pappas, Age 6, from her banner for her 1st grade presentation on her hero, Arnoux Goran
TICKET PRICE:  
$10 advance pay
$15 at the door
Register now.
"I lost 9lbs, all 9 that I had to lose, have boundless energy, met my fiancée after being single for 19 years and dramatically increased my income just from The Solution and The Foundation courses." –Gail Gajardo
About Arnoux: 
Arnoux Goran, is the Founder of Total Health Mastery the world's most scientifically advanced health education system in existence today!  After being told by his doctors that he would never recover and would certainly die he cured himself of several incurable diseases and went on to design the seminar series that changes and saves lives.  Clients of Total Health Mastery regularly achieve results most people would consider impossible.  Arnoux is the inventor of The 7 Steps to Reprogramming Yourself, The 5 Step Emotional Eraser, How to Cleanse the Body Without Cleansing Reactions and How to Overcome Addictions Without Willpower.  To receive a no cost training video visit www.TotalHealthMasteryUSA.com.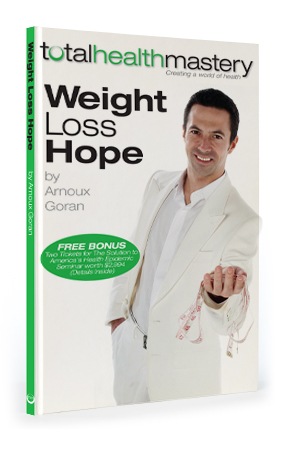 DISCLAIMER: All of our programs are educational based on our experience, years of research and the results of others. In no way do we make any claims as to the results you can expect, nor do we recommend you stop working with your health care professional. We do recommend you consult your health care professional and work with them in conjunction with this program. All of the results you produce will be because of your own efforts and initiative therefore you deserve all of the credit for your amazing success.
When & Where

Daniel and Ginger's Home in LA (Sherman Oaks)
Address Given Upon Registration



Wednesday, November 13, 2013 from 7:30 PM to 10:00 PM (PST)
Add to my calendar
Organizer
Our Mission is to create Heaven on Earth, by providing the world's most advanced health education.